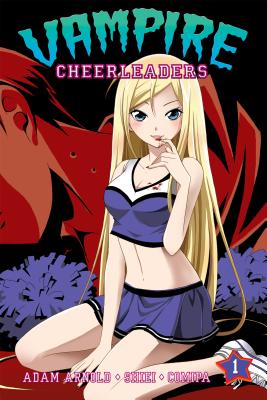 Vampire Cheerleaders vol. 1
Paperback

* Individual store prices may vary.
Description
The Bakertown High School cheerleading squad has a secret: behind all their pretty make-up and short skirts are five hungry vampires who sure know how to show their school spirit!

When one of their own turns up missing, the senior cheerleaders have no other choice but to induct one of the eleventh grade girls from the B Squad into their vixenous ranks. But siring new recruit Heather Hartley is the easy part...keeping a sheltered virgin from not going wild and draining the entire football team on the eve of their big homecoming game is another matter!

Double-featuring with Vampire Cheerleaders is Paranormal Mystery Squad, written by Adam Arnold with art by Comipa, in a ghostbusting Aoi House spin-off.

Goth girl Stephanie Kane always thought she was special; that there was something different about her. It turns out that she's the most normal person out there and everyone else around her is some kind of paranormal freak! Seriously: her sister is a werewolf, her best friend is a witch, and her next door neighbor is a dhampir. Together, this motley crew of unlikely friends travel the country in their trusty Winnebago in search of cryptids and all manner of supernatural beasties!
Praise For Vampire Cheerleaders vol. 1…
"Pick up this book…you're going to have a good time reading it." —IGN.COM (on Aoi House)
Seven Seas, 9781934876848, 192pp.
Publication Date: March 15, 2011
About the Author
ADAM ARNOLD is the author of Aoi House. He founded the fandom webzine Animefringe, and went on to edit and adapt over two hundred manga and novel releases. He resides in Georgia.SHIEI is the artist of Amazing Agent Luna, Aoi House, and Avalon: The Warlock Diaries. She lives in Southern California.COMIPA is a Philipine-born manga artist who has contributed to numerous international projects ranging from game book illustrations, to comics, designs and game apps.
or
Not Currently Available for Direct Purchase