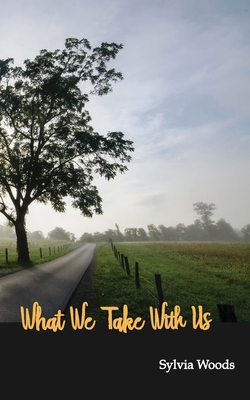 What We Take With Us
Paperback

* Individual store prices may vary.
Description
Ranging from the humble and poignant to the humorous, Sylvia Woods' poems explore her personal experience as an educator, as well as her own transition from daughter to mother and eventually to grandmother. Throughout Woods' work, the landscape and culture of Appalachia is a driving force. So too is the memory of family and the myth of family history.
The poems in What We Take With Us are, as acclaimed poet Maurice Manning says, "as true as a river fork and as durable as the hills above." He continues, "They are also, like the many people and voices here recalled, humble and hard-won. The grit and humor walk side by side with grief and spunk, but isn't that what we ask of poetry, this lofty air?"
Kentucky Poet Laureate George Ella Lyon praises Sylvia Woods' work with these words: "Like switchback roads in the mountains she hails from ... Woods' poems are going to take you places, and you don't want to miss the ride "
Author Darnell Arnoult describes What We Take With Us in this way: "Sylvia Woods 'captures' the reader in a vault of rich images, layers and layers of ideas to mine and gorgeously crafted moments of recognition for the poet and for us her readers. This may be a debut collection, but Woods is no novice to poetry. Each poem is a gem crafted by an experienced hand, strung together jewel after jewel."
What We Take With Us is published by EastOver Press. (www.EastOverPress.com)
Eastover Press, 9781934894644, 84pp.
Publication Date: April 20, 2021