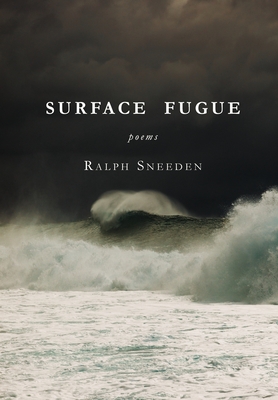 Surface Fugue
Hardcover

* Individual store prices may vary.
Description
Whether set adrift in a marsh or canal, traversing battlefields or beaches, or wading the disorienting streams of adolescence and male identity, readers of Surface Fugue will engage with questioning poignancy and imagination the layers of history stifled by modernity. Plunging us through the ambiguous surfaces of time into the proximities of water-borne violence, predation and occupation, Sneeden maintains perspective and scale with timely anchorages in the coves of elegy and personal memory. Vivid and experiential, these poems deliver reverie and threat with equal power; as the poet's description of refraction suggests, "...a dipping oar /is able to inhabit both worlds."
Ralph Sneeden's poems and essays have appeared in AGNI, The Common, Ecotone, Harvard Review, The Kenyon Review, New England Review, The New Republic, Ploughshares, Slate, Southwest Review, The Surfer's Journal, and many other magazines. His book, Evidence of the Journey (Harmon Blunt 2007) was a finalist (in previous forms) for the Walt Whitman Award (Academy of American Poets) and The Yale Series of Younger Poets. Poems in it have been featured on Poetry Daily and received the Friends of Literature Prize from POETRY magazine. The title poem of Surface Fugue was nominated for a Pushcart Prize, and the book, in earlier forms, was a semi-finalist for the National Poetry Series, and finalist for the Lena-Miles Wever Todd Poetry Prize and the May Swenson Poetry Award. Sneeden has received fellowships from MacDowell, Columbia University Teachers College and the American School in London. He was born in Los Angeles but has lived for many years in New England, currently in New Hampshire where he teaches at Phillips Exeter Academy.
Eastover Press, 9781934894668, 82pp.
Publication Date: November 9, 2021