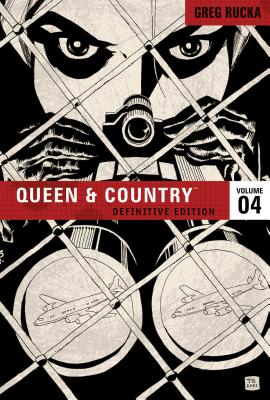 Queen & Country Vol. 4 (Paperback)
Definitive Edition 4
Oni Press, 9781934964132, 296pp.
Publication Date: May 12, 2009
Other Editions of This Title:
Paperback (9/29/2008)
Paperback (5/6/2008)
Paperback (1/2/2008)
* Individual store prices may vary.
Description
QUEEN & COUNTRY, the Eisner Award-winning and critically lauded espionage series from acclaimed novelist and comic book author Greg Rucka, is back in a new series of definitive editions collecting the entire classic series in just four, affordable softcovers. In this fourth and final collection, readers are sucked into the thrilling and often-times devastating world of international espionage as SIS field agents are sent all over the world, often on their first mission, in service to Queen & Country.
About the Author
Antony Johnston is an award-winning, New York Times bestselling author of more than thirty graphic novels and comic series, including The Coldest City (now a film starring Charlize Theron), the epic series Wasteland, Marvel's superhero Daredevil, the modern Shakespeare Julius, and more. He also writes video games, such as the seminal Dead Space and ZombiU. He has adapted books by bestselling novelist Anthony Horowitz, collaborated with comics legend Alan Moore, and his titles have been translated throughout the world. He lives and works in England.

Brian Hurtt is an artist/writer who has spent most of his career working on collaborative creator-owned projects. His first such collaboration was in 2006 when Brian teamed with writer Cullen Bunn to create the Prohibition-era, monster-noir, cult classic, The Damned. A few years later the two teamed up again to create The Sixth Gun--a weird-west, epic supernatural fantasy. Spun out of that world, they're now collaborating on Shadow Roads. Brian also contributes to the popular webcomic Table Titans, in which he is the writer and artist of the stories "Whispers of Dragons" and "Road to Embers". Brian lives and works in St. Louis, Missouri. Brihurtt.com Twitter: @brihurtt