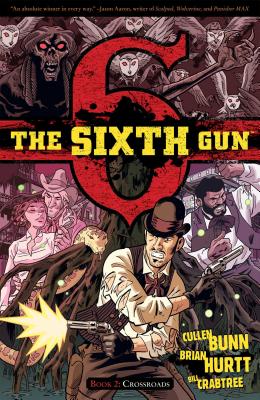 The Sixth Gun Vol. 2 (Paperback)
Crossroads
Oni Press, 9781934964675, 136pp.
Publication Date: June 28, 2011
Other Editions of This Title:
Hardcover (5/5/2015)
* Individual store prices may vary.
Description
In the aftermath of the tragic battle of the Maw, Drake and company hide in the sprawling city of New Orleans. But as they plot their next move, they find themselves embroiled in another harrowing adventure. Unexpected threats, new enemies, and a host of strange spirits are already aligning against them.
About the Author
CULLEN BUNN is the writer of comic books such THE SIXTH GUN, SHADOW ROADS, THE DAMNED, HELHEIM, and THE TOOTH for Oni Press. He has also written titles including HARROW COUNTY (Dark Horse), UNCANNY X-MEN, and DEADPOOL AND THE MERCS FOR MONEY (Marvel). Cullen claims to have worked as an Alien Autopsy Specialist, Rodeo Clown, Pro Wrestling Manager, and Sasquatch Wrangler. He has fought for his life against mountain lions and performed on stage as the World's Youngest Hypnotist. Buy him a drink sometime, and he'll tell you all about it. His website is www.cullenbunn.com. Twitter: @cullenbunn

Brian Hurtt is an artist/writer who has spent most of his career working on collaborative creator-owned projects. His first such collaboration was in 2006 when Brian teamed with writer Cullen Bunn to create the Prohibition-era, monster-noir, cult classic, The Damned. A few years later the two teamed up again to create The Sixth Gun--a weird-west, epic supernatural fantasy. Spun out of that world, they're now collaborating on Shadow Roads. Brian also contributes to the popular webcomic Table Titans, in which he is the writer and artist of the stories "Whispers of Dragons" and "Road to Embers". Brian lives and works in St. Louis, Missouri. Brihurtt.com Twitter: @brihurtt