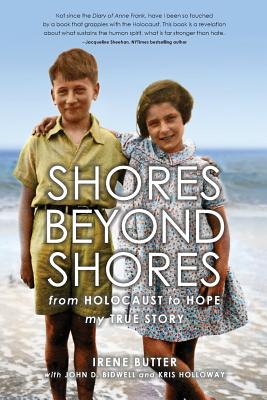 Shores Beyond Shores (Paperback)
From Holocaust to Hope, My True Story
White River Press, 9781935052708, 290pp.
Publication Date: April 7, 2018
Other Editions of This Title:
Paperback (10/1/2019)
* Individual store prices may vary.
Description
As Irene's Pappi fights to save his family during the Holocaust, Irene's childhood is lost. Play is restricted. Family and friends disappear. Finally, with the Dutch police at their door comes the reality that Irene's father has not moved his family far enough from Hitler's Germany.
By January 1945, the family is struggling to survive a death camp. Irene tends her ailing parents, cares for starving kids, and even helps bring clothes to her Amsterdam neighbor Anne Frank, before her family is offered a singular chance for freedom...providing the Nazi doctor says they are healthy enough. After two weeks of heart-lifting miracles and heart-breaking tragedies, Irene arrives in the Algerian desert to journey into redemption and womanhood, without her parents or brother.
Irene's first person memoir, Shores Beyond Shores, is an account of how the heart keeps its common humanity in the most inhumane and turbulent of times. Irene's hard-earned lessons are a timeless inspiration.
______________________________________________________________________________________________________________________
Following publication of an article on the Holocaust on April 13, 2018, Irene wrote a letter to the Editor which was published April 17, 2018 in The New York Times:
Holocaust Survivors 'Have Voices That Matter'
April 17, 2018
Re "Getting Facts Wrong on the Holocaust" (news article, April 13):
More than four decades passed before I could break the silence about my traumatic experiences during the Holocaust. It is a formidable challenge for survivors to speak and for others to listen.
The number of survivors is dwindling; they are getting quite old and their memories are fading. Yet it is ever more important that the signs of authoritarian regimes and how they evolved are brought into the consciousness of youths and adults, as warning signals of what must be prevented from happening again.
Survivors, when able, have the responsibility to bear witness and provide evidence so that the six million Jews who were murdered are not forgotten, so that perpetrators are not pardoned for their crimes, and so that deniers don't have a leg to stand on.
While the voices of the victims have been silenced forever, we the survivors have voices that matter. After four decades of not speaking, I realized that silence was no longer an option. I told my stories to my children and grandchildren as well as to many students in many schools over a 30-year period.
Schools and other organizations should take advantage of every opportunity to engage survivors to tell their stories.
IRENE BUTTER, ANN ARBOR, MICH.
The writer survived two concentration camps, Westerbork and Bergen-Belsen. She recently published her memoir, "Shores Beyond Shores: From Holocaust to Hope."