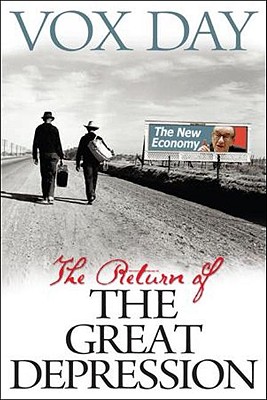 The Return of the Great Depression (Hardcover)
WND Books, 9781935071181, 266pp.
Publication Date: October 29, 2009
Description
In this sophisticated yet readable book, Vox Day - one of the few economics writers to predict the current worldwide financial crisis - explains why it is likely to continue. Day shows that the policies being pursued in Europe, Asia, and the United States are very similar to Japan's failed policies of the past twenty years and, therefore, doomed to similar results. According to Day, the economic theories behind those policies are flawed and account for why most economists were unable to anticipate the recession or see that their expectations of an imminent recovery are incorrect. Day applies a different theory, the one he used to predict the current crisis, to show that the world is in the early stages of a massive economic contraction. Then he turns to the six scenarios presently envisioned by the world's leading economists and assesses which is most likely to unfold. As the title suggests, Day concludes that the most probable scenario is a Great Depression 2.0 that will be larger in scale and scope than that of the 1930s.
Advertisement