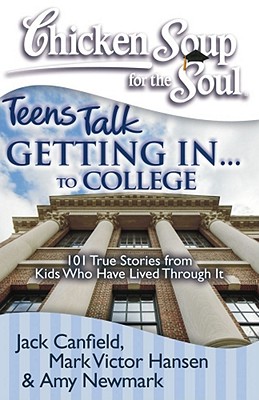 Chicken Soup for the Soul (Paperback)
Teens Talk Getting In. . . to College: 101 True Stories from Kids Who Have Lived Through It
Chicken Soup for the Soul, 9781935096276, 380pp.
Publication Date: November 4, 2008
Other Editions of This Title:
Paperback (11/4/2008)
Paperback (11/4/2008)
Paperback (8/26/2008)
MP3 CD (10/4/2016)
MP3 CD (8/15/2011)
Compact Disc (9/5/2012)
Compact Disc (9/16/2010)
Compact Disc (9/16/2010)
Compact Disc (8/15/2011)
Compact Disc (9/5/2012)
MP3 CD (10/4/2016)
Compact Disc (9/5/2012)
Compact Disc (9/16/2010)
MP3 CD (3/24/2015)
MP3 CD (8/15/2011)
* Individual store prices may vary.
Description
1. This long-awaited book has been requested by many Chicken Soup readers - teens and their mothers.

2. There are over 3 million graduating high school seniors each year and more than half of them apply to college.

3. The line is being updated with new covers, new interior layouts, excellent editing, and up-to-date stories. The line is also returning to the core values of its heyday, delivering 101 stories in every book.

4. Chicken Soup for the Soul earned the Guinness World Record for having the most books on the New York Times bestseller list at one time.

5. Last year, USA Today named Chicken Soup for the Soul #5 on its list of 25 books that left a legacy over the past quarter century.





.

These days, colleges are deluged with applications and the college application process has become the most traumatic thing that most students and their parents have ever experienced. Lots of books tell you how to get into college, but this book uniquely provides emotional, instead of tactical, support.



The stories in the book are written by kids who have been there and want to pass on their words of support to the kids behind them. Stories cover topics such as parental and peer pressure, the stress of grades and SATs/ACTs, college applications and interviews, recruiting, disappointments and success. These stories provide moral support and encouragement to high school students going through one of the most stressful events of their lives. Parents will find Getting In...to College a great source of support and inspiration as well.





The first Chicken Soup for the Soul book was published in 1993, and became a publishing industry sensation, ultimately selling eight million copies. Since then, more than 150 Chicken Soup titles have been published, selling more than 100 million copies.

Chicken Soup for the Soul has won dozens of awards over the past 15 years, and its founders, Jack Canfield and Mark Victor Hansen have become celebrity motivational speakers and authors.
About the Author
Jack Canfield is co-creator of the Chicken Soup for the Soul® series, which includes forty New York Times bestsellers, and coauthor of The Success Principles: How to Get from Where You Are to Where You Want to Be. He is a leader in the field of personal transformation and peak performance and is currently CEO of the Canfield Training Group and Founder and Chairman of the Board of The Foundation for Self-Esteem. An internationally renowned corporate trainer and keynote speaker, he lives in Santa Barbara, California.

Mark Victor Hansen is a co-founder of Chicken Soup for the Soul.
Praise For Chicken Soup for the Soul: Teens Talk Getting In. . . to College: 101 True Stories from Kids Who Have Lived Through It…
"Admissions how-to books abound, yet Chicken Soup for the Soul: Teens Talk Getting In...to College reminds us that the best counsel of all comes from reading the real stories of those who have known first-hand the anxiety and uncertainty of the college application process. This reassuring collection shows high school students and their parents that there is no single right approach or perfect school and that it's the "who" that counts the most, not⠭ the⠭ 'how'...or⠭ 'where.'" -- Sally Rubenstone, Senior Advisor, College Confidential (collegeconfidential.com)

"Finally, a resource that focuses on the process and experience of applying to college instead of on how to get in. Authentic, emotive, and entertaining -- a necessary read for all college bound students." -- Ryan Chang, Founder & CEO, Ivy Consulting Group

"What a valuable addition to that big stack of SAT, ACT, and college guides! Chicken Soup for the Soul: Teens Talk Getting In... to College really puts the whole college application process in perspective. Insight can make the unknown a very fun and rewarding experience, and that's exactly what this book will give you." -- Kent Healy, co-author of The Success Principles for Teens and "Cool Stuff" They Should Teach In School
or
Not Currently Available for Direct Purchase