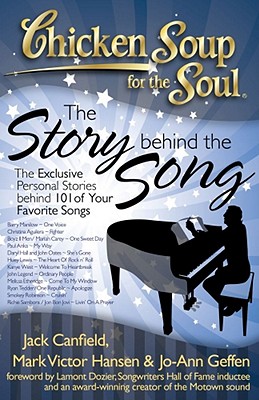 Chicken Soup for the Soul (Paperback)
The Story Behind the Song: The Exclusive Personal Stories Behind Your Favorite Songs
Chicken Soup for the Soul, 9781935096405, 448pp.
Publication Date: November 10, 2009
Other Editions of This Title:
Pre-Recorded Audio Player (3/15/2011)
* Individual store prices may vary.
Description
You will get an inside look at the personal stories behind your favorite songs as songwriters get up close and personal with exclusive stories about how and why they wrote them.
Songs tell a story, and now popular singers and songwriters are sharing more of the story! These artists reveal the inspiration, influence, and background, and when and why they wrote their most famous songs, in
Chicken Soup for the Soul: The Story Behind the Song
. Includes great photos of the songwriters. The print edition contains the lyrics to all 101 songs, and the eBook includes lyrics to 85 of the songs.
Songs, with personal stories behind them, many of which are being told for the first time, include:
Storyteller/Songwriter Song Title
Aaron Lewis, Staind Outside
Aaron Neville Yellow Moon
Aaron Tippin Kiss This
Amanda McBroom The Rose
Angélique Kidjo Batonga
Ann Wilson, Heart Dog and Butterfly
Barry Manilow One Voice
Billy Bob Thornton The Poor House
Billy Steinberg True Colors
Brenda Russell Get Here
Carly Simon Let the River Run
Carol Connors With You I'm Born Again
Carole Bayer Sager That's What Friends Are For
Christina Aguilera Fighter
Chynna Phillips Hold On
Clint Black When I Said I Do
Corey Taylor (Slipknot) Duality
Darius Rucker It Won't Be Like This For Long
Daryl Hall Sara Smile
David Cassidy Stand and Be Proud
Diane Warren Because You Loved Me
Diane Warren I Don't Want To Miss A Thing
Doug Ingle (Iron Butterfly) In-A-Gadda-Da-Vida
Ed Robertson (Barenaked Ladies) Easy
Eddie Money Two Tickets To
Paradise
Enrique Iglesias Be With You
Art Alexakis (Everclear) Father Of Mine
Gavin Rossdale Love Remains the Same
Greg Camp (Smash Mouth) All Star
Hal David What the World Needs Now Is Love
Howard Hewett Say Amen
Howie Dorough (Backstreet Boys) What Makes You Different (Makes You Beautiful)
Huey Lewis The Heart Of Rock n' Roll
Iggy Pop Lust For Life
Jack Tempchin Peaceful Easy Feeling
Janis Ian At Seventeen
Jeff Barry Walkin' In the Sun
Jeff Barry Tell Laura I Love Her
Jerry Cantrell (
Alice
in Chains) Rooster
Jewel Hands
Jim Croce (by Ingrid Croce) Bad, Bad Leroy Brown
Jim Croce (by Ingrid Croce) Operator
Jim Peterik (Survivor) Eye Of the Tiger
Joan Jett Bad Reputation
John Legend Ordinary People
John Oates She's Gone
John Sebastian (Lovin' Spoonful) Do You Believe In Magic
John Sebastian (Lovin' Spoonful) Daydream
Kanye West Welcome To Heartbreak
Kelly Keagy (Night Ranger) Midnight Madness
Kenny Loggins Moose 'n Me
Kim Carnes Don't Fall In Love With a Dreamer
Lamont Dozier Stop In the Name of Love
Lamont Dozier Where Did Our Love Go
Larry Gatlin All the Gold In
California
Lisa Loeb Stay
Liz Phair Divorce Song
Macy Gray Sweet Baby
Mark Hoppus (Blink 182) The Rock Show
Mel B (Spice Girls) Mama
Melissa Etheridge Come To My Window
Melissa Manchester Midnight Blue
Melissa Manchester Power Of Ribbons
Mick Fleetwood (Fleetwood Mac) Tusk
Mick Jones (Foreigner) Feels Like the First Time
Mick Jones (Foreigner) Waiting For A Girl Like You
Nathan Morris (Boyz II Men) One Sweet Day
Neil Sedaka Breaking Up Is Hard To Do
Pam Tillis Cleopatra, the Queen Of Denial
Paul Anka The Longest Day
Paul Anka My Way
Phil Vassar Just Another Day In
Paradise
Philip Bailey (Earth, Wind & Fire) Shining Star
Stephen Pearcy (RATT) Round and Round
Ray Stevens The Streak
Richard Marx Right Here Waiting
Richie Sambora (Bon Jovi) It's My Life
Richie Sambora (Bon Jovi) Livin' On A Prayer
Rick
Springfield
Jesse's Girl
Robert Lamm (
Chicago
) Saturday In the Park
Rodney Jerkins Say My Name
Ronald LaPread (Commodores) Zoom
Roy Hay (Culture Club) Do You Really Want To Hurt Me
Roy Thomas Baker for Freddie Bohemian Rhapsody
Mercury (Queen)
Ryan Tedder (
One
Republic
) Apologize
Ryan Tedder Bleeding Love
Sean Garrett Burn
Shelby Lynne Johnny Met June
Siedah Garrett Man In the Mirror
Smokey Robinson Cruisin'
Steals Brothers Could It Be I'm Falling In Love
Stephen Bishop On and On
Taylor Dayne Beautiful
Tom Higgenson (Plain White T's) Hey There Delilah
Toni Tennille Do That To Me One More Time
Tony Asher Wouldn't It Be Nice
Tracy Lawrence If the World Had A Front Porch
Walter Orange (Commodores) Nightshift
Warren Haynes Soulshine
About the Author
Jack Canfield is co-creator of the Chicken Soup for the Soul® series, which includes forty New York Times bestsellers, and coauthor of The Success Principles: How to Get from Where You Are to Where You Want to Be. He is a leader in the field of personal transformation and peak performance and is currently CEO of the Canfield Training Group and Founder and Chairman of the Board of The Foundation for Self-Esteem. An internationally renowned corporate trainer and keynote speaker, he lives in Santa Barbara, California.

Mark Victor Hansen is a co-founder of Chicken Soup for the Soul.