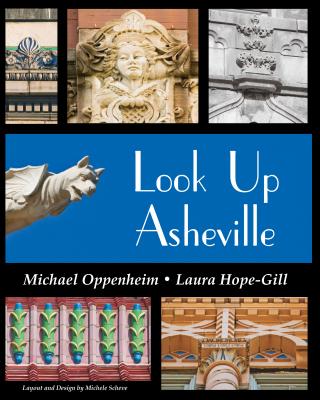 Look Up Asheville
An Architectural Journey
Hardcover

* Individual store prices may vary.
Description
Look Up Asheville is a creative exploration of Asheville's architecture rendered through stunning photography by Michael Oppenheim and creative prose by Laura Hope-Gill.



This journey through Asheville's Eclectic architecture takes us back in time to the early 20th century, the Golden Age of Engineering and the rise of this mountain town to international regard as the "Paris of the South." Asheville's early architects experimented with new materials while exploring styles of the past, from Romanesque to Renaissance and Neo-Classical and also reached for the new Art Deco and European Style.

Laura Hope-Gill



Their creations invite us to see through the present and explore the millennia of masonry.



Asheville's dream of becoming a Manhattan of the mountains ground to a halt in 1929. But there is a saying, "Poverty is a friend to Preservation." Because Asheville voted to pay back its debt rather than sink deeper into it, the architecture remained intact while other cities demolished their own early treasures in favor of urban development. Asheville became the Sleeping Beauty of the eclectic age of architecture. Whereas in the fairy tale, the castles were covered in thorny vines, our buildings were covered with polymerized plastic and brightly colored aluminum. In the late 1980s, the people who live here, themselves awakened by the near-loss of 11 blocks of buildings, started rescuing our architectural resources, waking them into the beauty that defines the city today.



For every old building that stands in Asheville, there are countless untold stories. These are stories of the people who wanted them built, of the contractors who built them, the architects who designed them, the masons who made them, the artisans who decorated them and of course the stories of the people who have lived and worked in them and the preservationists who protect them from decay. Asheville's stories in the stone are rich and deep; some are as troubling as others are inspiring. The history of the 20th century lives on in our architecture.



Engaging the buildings of Richard Sharp Smith, E.L Tilton, Ronald Greene, Douglas Ellington, Tony Lord, James Vester Miller and many more, Look Up Asheville transforms the walk between bookstore and bank, condo and coffee shop, into a walk through history.



© 2011 Look Up Asheville • www.lookupasheville.com • Michael Oppenheim • Laura Hope-Gill


Praise For Look Up Asheville: An Architectural Journey…
A collaboration between photographer Michael Oppenheim and writer Laura Hope-Gill, Look Up seeks to balance imagery and prose. It's laid out rather like a collage, with 32 buildings (most of them located in downtown Asheville) each represented by a handful of images. Usually just one image (per collection) shows a given structure in its entirely and the balance dedicated to capturing each building's details, many of which are not available to the casual observer and the naked eye.



It's this aspect — the capturing of details — that makes Look Up such a treasure. For instance, did you know that there are blue-patina copper bouquets of flowers around the steeple of the First Presbyterian Church, a Native American-inspired feature motifs on Asheville City Hall and winged horses in bas-relief on the Haverty Building? There's a certain sense of disorientation from the angles of the photos, looking up at corners and rooflines set against the sky. But with that disorientation, made possible by Oppenheim's lense, comes the ability to see Asheville differently.



Hope-Gill provides a similar service through text. Each of the buildings selected for the book are historic and storied; Hope-Gill does a nice job of culling the most interesting anecdotes and morsels to accompany the artwork. Of the Kress building she writes, "Almost all Kress buildings are on the Register of Historic Places, including this one. Kress buildings are as resilient as their owner was shrewd: his business actually expanded during the Depression, due to the Woolworth-inspired practice of selling items at low cost."



And of the Asheville Citizen-Times building: "For a building constructed the same year Hitler invaded Poland and two years after the fall of Nanking and Shanghai, Lord's Asheville Citizen-Times Building reflects the launching of humanity into a new era, not only of architecture."



At first, the white type on black pages, and the abundance of imagery is a little bit hard on the eyes. But that's really the only shortfall of Look Up, and only a minor issue because this is a book meant to be savored rather than inhaled. It's a coffee table book that will actually be perused cover-to-cover; it's as much a gift book as it is a keep sake for the people who live in Asheville and see these buildings day after day. Consider Look Up both an insider's view and a bird's eye view: You'll never look at Asheville again in quite the same way.



The book can be found in local bookstores and at Grateful Steps, 159 S Lexington Ave., Asheville. --Alli Marshall, Mountain Xpress
Grateful Steps, 9781935130017, 152pp.
Publication Date: May 31, 2011
or
Not Currently Available for Direct Purchase