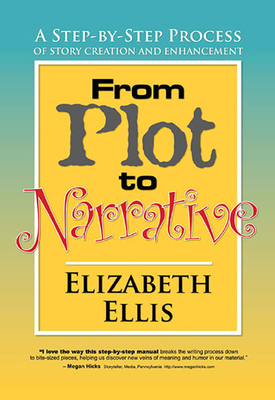 From Plot to Narrative (Paperback)
Parkhurst Brothers Publishers Inc, 9781935166818, 112pp.
Publication Date: September 1, 2012
* Individual store prices may vary.
Description
Each of the twelve chapters represents a rung on the ladder of dynamic narrative development.  Beginning with the most basic plot outline, Ellis leads readers through exercises and discussions of elements that build a story into a memorable reading or listening experience.  The chapters include many topics of interest to all writers, regardless of medium, but some will speak most potently to those writing either fiction or personal narrative. Chapters include Characterization, Point of View, Emotion, Context, Imagery, and Connection [with the reader].  Herself a leading professional storyteller, Ellis also includes a chapter especially for those who plan to craft stories for oral performance.
About the Author
Elizabeth Ellis, designated a Circle of Excellence Storyteller by the National Storytelling Network (USA), is much in demand as a workshop leader at writing events and storytelling conferences throughout the English-speakng world.  A winner of the John Henry Faulk Award and a familiar face on storytelling stages coast-to-coast, Ellis developed this book from her very popular workshop by the same name.
Praise For From Plot to Narrative…
". . .PLOT IS A WORD EVERYONE HAS HEARD BUT FEW CAN EXPLAIN. It is so much more than 'a beginning, a middle, and an end in a story—as textbooks often de?ne it. Elizabeth Ellis, a master storyteller and teacher, knows better than anyone how to describe the elements of plot and demonstrate how they can be crafted into meaningful stories."
— Barbara McBride-Smith, Circle of Excellence Storyteller, School Librarian, and Instructor
Anne Izard Storyteller's Choice Award Reciipient
— Anne Izard Storyteller's Choice Award
Winner of the prestigious Storytelling World Award
— Storytelling World Award Winner
"I love the way this step-by-step manual breaks the writing process down to bite-sized pieces, helping us discover new veins of meaning and humor in our material." 
— Megan Hicks, Storyteller, Media, Pennsylvania
 "A masterful book by a master storyteller. To think that Elizabeth Ellis' voice could be even more powerful in print than in performance is unimaginable, but here she is in this inspiring and insightful book. She teaches us with humor and generosity, asking that we dig deeper—layer after layer—until we come to love and understand the characters we've created. Our stories are stronger for her guidance and so are we."
— Jane Stenson, Storyteller, author and educator
"Elizabeth Ellis takes us on a journey of 'storying' using wit, humor and common sense! While some tools may be familiar, Elizabeth has added fresh perspective, o?ering examples and exercises to facilitate the ?ow of creativity.  Her methods set free our senses, allowing them to guide us through the images of character, narrative, plot and setti ng, advancing the process of crafting our stories."
— Karen Chace, Storyteller and Teaching Artist