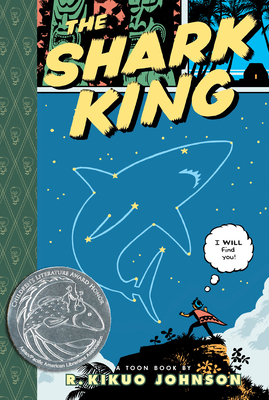 The Shark King
Toon Books Level 3
Hardcover

* Individual store prices may vary.
Other Editions of This Title:
Paperback (8/5/2014)
Library Binding (1/1/2015)
Description
From the islands of Hawaii comes the electrifying tale of Nanaue, who has to balance his yearning for Dad's guidance with his desire for Mom's nurture.
Praise For The Shark King: Toon Books Level 3…
Johnson's beautiful, graphic style recalls, of all things, Gilbert Hernandez' early Palomar comics, with zippy figures set against equatorial backgrounds distinguished by a few key features—a waterfall and fruit tree here, a tidal pool and coral reef there. The crafty panel layouts plunge into a couple of full-bleed splash pages with all the exhilaration of a high dive. While simple enough to keep brand-new and below-level readers in tow—and strengthen their vocabulary with contextual clues—this charming, high-energy Hawaiian fable will reveal deeper layers to more intuitive readers.
—Booklist (starred review)

Sharks, superpowers, and the comic-panel format will initially lure in readers, but the subtext of bullying, parental separation, and self-discovery will stay with them long afterward. The characters' rounded black outlines convey strong energy and emotion, while the panels and spreads feature a lush, colorful Hawaiian setting.
—The Horn Book (starred review)

This graphic novel, which works either as a read-aloud or as a step toward chapter books for young readers, offers a story especially appealing to boys who long to be just like Dad.
—The New York Times
TOON Books, 9781935179160, 40pp.
Publication Date: April 10, 2012
About the Author
R. Kikuo Johnson grew up in Hawaii on the island of Maui. For generations, native Hawaiians have told tales of the shape-shifting shark god Kamohoalii; The Shark King is the artist's version of one such tale about the insatiable appetite of Kamohoalii's son, Nanaue. Kikuo's 2005 graphic novel, Night Fisher—also set in Hawaii—earned him both the Russ Manning Most Promising Newcomer Award and a Harvey Award.

Kikuo spent his childhood exploring the rocky shore in front of his grandmother's house at low tide and diving with his older brother. Since moving to the mainland, Kikuo has discovered the joys of swimming in fresh water and currently lives in Brooklyn, New York, where he enjoys cooking, playing his ukulele, and riding his bike all over the city.