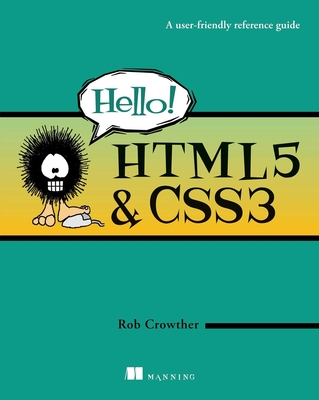 Hello! HTML5 & CSS3
A user-friendly reference guide
Paperback

* Individual store prices may vary.
Description
Summary
Hello! HTML5 & CSS3
is written for the web designer or developer who wants a fast, example-oriented introduction to the new HTML and CSS features. This snappy, user-friendly, and fun guide will get you started right away.
About this Book
Whether you're building web pages, mobile apps, or desktop apps, you need to learn HTML5 and CSS3. So why wait?
Hello! HTML5 & CSS3
is a smart, snappy, and fun way to get started now.
In this example-rich guide to HTML5 and CSS3, you'll start with a user-friendly introduction to HTML5 markup and then take a quick tour through forms, graphics, drag-and-drop, multimedia, and more. Next, you'll explore CSS3, including new features like drop shadows, borders, colors, gradients, and backgrounds. Every step of the way, you'll find hands-on examples, both large and small, to help you learn by doing.
Purchase of the print book comes with an offer of a free PDF, ePub, and Kindle eBook from Manning. Also available is all code from the book.
What's inside
Easy-to-follow intro to HTML5 and CSS3
Fully illustrated and loaded with examples
Designed for low-stress learning
No prior experience needed!
Table of Contents
PART 1 LEARNING HTML5

Introducing HTML5 markup
HTML5 forms
Dynamic graphics
Audio and video
Browser-based APIs
Network and location APIs

PART 2 LEARNING CSS3

New CSS language features
Layout with CSS3
Motion and color
Borders and backgrounds with CSS3
Text and fonts
Manning Publications, 9781935182894, 560pp.
Publication Date: November 1, 2012
About the Author
Rob Crowther is a web developer and blogger based in London, UK. Currently he works for a small software company building web applications for corporate clients such as BNP Paribas, BNY Mellon, Honeywell, and Young & Co.'s Brewery.