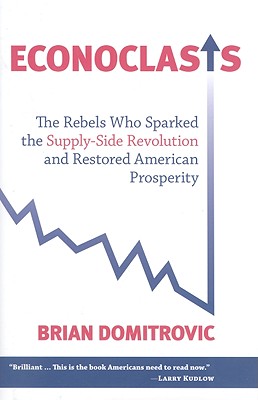 Econoclasts (Hardcover)
The Rebels Who Sparked the Supply-Side Revolution and Restored American Prosperity
Intercollegiate Studies Institute, 9781935191254, 368pp.
Publication Date: August 1, 2009
* Individual store prices may vary.
Description
The definitive history of supply-side economics—the most consequential economic counterrevolution of the twentieth century—and an incredibly timely work that reveals the foundations of America's prosperity at a time when those very foundations are under attack.
About the Author
Brian Domitrovic holds a Ph.D. in history from Harvard University, where he also did graduate work in economics. He earned his bachelor's degree at Columbia University, studying history and mathematics. Professor Domitrovic teaches at Sam Houston State University and has written for numerous scholarly and popular publications. He lives with his wife and three daughters in Texas.
Praise For Econoclasts: The Rebels Who Sparked the Supply-Side Revolution and Restored American Prosperity…
"Should serve as a
roadmap to revitalizing the private sector
. This sharply written, thoroughly-researched narrative weaves together financial history, economic doctrine, and character study so skillfully that recent decades' policy debates become not only comprehensible, but at times, downright exciting. . . . A
vivid and deeply researched look at the forces that unleash prosperity, move history, and enhance great nations
. In our time of loose money and rising taxes, supply-side's second revolution may begin with this book."
                   —
Real Clear Markets
"Couldn't be more timely. Econoclasts reminds us of what's wrong with current policy. Domitrovic adds significant value in his review of Carter- and Reagan-era economics."
—Amity Shlaes, bestselling author of The Forgotten Man: A New History of the Great Depression
"A brilliant look at America's last economic crisis and Ronald Reagan's supply-side solutions that finally ended it. The same free-market incentive model would work today. This is the book Americans need to read now, as our leaders rush forward to deal with the present crisis without consulting the lessons of the past."
—Larry Kudlow, host of CNBC's The Kudlow Report
"I've never read anything on the subject of economics that surpasses this extraordinary book for its lucidity, richness, depth, intelligibility, savvy, and sheer intellectual excitement. Its publication could hardly come at a better time, as the fatal attraction of statism seems to have reemerged, one more time, from the murky depths to which it had been consigned."
—Wilfred McClay, award-winning historian, SunTrust Bank Chair of Excellence in Humanities at the University of Tennessee at Chattanooga
"Fascinating. Domitrovic has corrected a glaring intellectual deficiency with his new history of the supply-side movement. He is to be commended for his masterful gathering of evidence and his capturing of the feel of the era, of the passion of Arthur Laffer, Robert Mundell, Bob Bartley, and the other supply-side pioneers."
—Richard Vedder, distinguished professor of economics at Ohio University, author of Going Broke by Degree
or
Not Currently Available for Direct Purchase