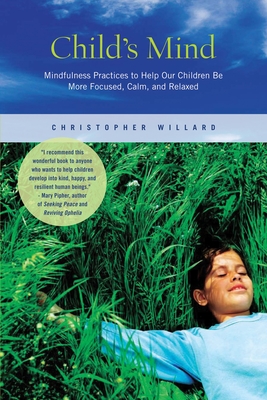 Child's Mind
Mindfulness Practices to Help Our Children Be More Focused, Calm, and Relaxed
Paperback

* Individual store prices may vary.
Description
The interest in teaching children meditation is growing rapidly, as a number of recent stories in the mainstream media have documented, including NPR, The New York Times, and London Telegraph. Child's Mind aims to teach parents and child professionals how to integrate mindfulness into their work with children, and teach children and adolescents basics of mindfulness and meditation.Willard's intention is to help parents pass on to their children the practices of mindfulness that they have found valuable for themselves. The book can also be a resource for those who work with children, whether it is family and children coordinators at retreat centers, religious instructors from a range of traditions, or teachers, therapists, and even medical professionals. Child's Mind aims to teach children the power that comes with the comfort of just being, and the capacity to be, be aware, and be comfortable with yourself.
Praise For Child's Mind: Mindfulness Practices to Help Our Children Be More Focused, Calm, and Relaxed…
"This wonderful book suggests simple and fun exercises that lead to profound growth towards joy, calmness, strength, and emotional intelligence. The list of A hundred things for kids to do mindfully' is worth the price of this important work. I recommend Child's Mind to therapists, educators, parents, and anyone else who wants to help children develop into kind, happy, and resilient human beings."
Mary Pipher, author Seeking Peace and Reviving Ophelia

"Chris Willard is a thoughtful and wise teacher. This book is sure to help anyone interested in the path of mindfulness. When I was a lost and angry young adult this is the book I was looking for".
Noah Levine, author of Dharma Punx

Child's Mind is a wonderful reminder that every young person is capable of great understanding, compassion, and joy."
Thich Nhat Hanh, author of Being Peace

Christopher Willard's delightful book Child's Mind makes the wonder and transformative power of mindfulness meditation accessible to everyone. His elegantly simple practices are a joy to read and will impact kids and families for generations to come."
Susan Kaiser Greenland, author of The Mindful Child.

Teaching mindfulness to children sounds great in theory, but really, how do we do it? This wonderful book, chock full of mindfulness practices adapted to children of all ages, is the answer! Christopher Willard offers us skillful advice, illuminating words, and a treasure chest of practices for schools, clinicians, and our own family's kitchen table."
Diana Winston, Director of Mindfulness Education at the Mindful Awareness Research Center of UCLA and author of Wide Awake: A Buddhist Guide for Teens

This book is an excellent resource for parents, teachers, and health-care providers who want to share the benefits of mindfulness with children. The varied practices are presented with clarity and joy, making them both accessible and engaging."
Amy Saltzman, M.D., Association for Mindfulness in Education and creator of the Still
Quiet Place CD series.

As a parent and teacher, I am deeply grateful for Christopher Willard's book. It is an important contribution toward making the practice of meditation an integral part of the school curriculum and, more generally, toward raising healthier, happier children."
Tal Ben-Shahar, author of Happier

Child's Mind is an invitation to raise children who grow up relating to themselves, others, and the world around them with care and compassion. Parents and teachers looking for practical advice for teaching mindfulness to children will find it here."
Paul R. Fulton, Institute for Meditation and Psychotherapy

If you're considering how to bring mindfulness into the lives of children, this book is the place to begin. It breathes the sweetness of mindful awareness. The author offers a basket of skillful, detailed exercises designed to entice and revealnever to be a chore. There's something for every child, including those with special challenges. I recommend this book for anyone who wants to be eased into the original wonder and delight of mindfulness practice, or who wants their kids to grow up savoring each precious moment of their lives."
Christopher K. Germer, Ph.D., Clinical Instructor in Psychology at Harvard Medical School and author of The Mindful Path to Self-Compassion

Child's Mind is a wise, creative, and practical collection of exercises for teaching mindfulness to children. Willard's compassion and his skillful translation of meditation practices shine through every page. Every teacher, parent, and therapist will benefit from this book, as will the children in their lives."
Janet L. Surrey, Ph.D., Institute for Meditation and Psychotherapy
Parallax Press, 9781935209621, 152pp.
Publication Date: July 9, 2006
About the Author
Dr. Christopher Willard received his Bachelor's degree in English from Wesleyan University, where he first became interested in meditation. After graduating, he spent time traveling and working a variety of jobs including as a teacher in a psychiatric hospital and as an artist's assistant. In graduate school he did his doctoral work on the psychological applications of meditation and mindfulness practice. Over the past ten years, he has attended retreats with Thich Nhat Hanh, Jack Kornfield, Pema Chodron, Noah Levine, and other Buddhist teachers in both the U.S. and Asia. Although he considers the Engaged Buddhism of Thich Nhat Hanh his spiritual home, he has studied and practiced extensively in the Theravada tradition, with some dabbling in Tibetan Buddhism .In the past few years, he has taught meditation to a wide range of people, from young children to recently paroled murderers to psychotherapists and schoolteachers. Dr. Willard has taught with the Institute for Meditation and Psychotherapy and volunteered at the Insight Meditation Society's Teen Retreat. He currently works as a psychotherapist at Tufts University, and consults and does private work in the Boston area. When not working or practicing he enjoys cooking, hiking, reading, writing, international travel, and any combination of these he can manage.