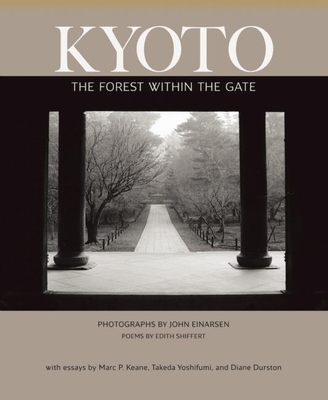 Kyoto
The Forest Within the Gate
Paperback

* Individual store prices may vary.
Other Editions of This Title:
Paperback (1/1/2006)
Description
This book resonates with the sublime and perceptive visions of this city by its very talented contributors. With a few deft strokes of a pen and a meditative use of the camera lens, they capture the heartbeat of the allusive moment nestled within.--Judith Clancy, Exploring Kyoto: On Foot in the Ancient Capital
A sensitive response to Kyoto, the ancient capital of Japan. The heart of the book is a dialogue between the poems of Edith Shiffert and over one hundred duotone photographs by John Einarsen. Enriched by essays from garden designer Marc Keane, aesthete Takeda Yoshifumi, and author Diane Durston.
White Pine Press (NY), 9781935210481, 140pp.
Publication Date: March 25, 2014
About the Author
John Einarsen: John Einarsen is originally from Colorado. He fell in love with Kyoto on his first trip here and settled down here in the early 1980s. He is the author of Zen and Kyoto and the founder editor of Kyoto Journal which he began with other poets and writers in 1986.Marc P Keane: Marc P. Keane is the author of Japanese Garden Design andThe Sakuteiki, and The Art of Setting Stones.Diane Durston: Diane Durston is the author of Old Kyoto and Seven Paths to the Heart of the City, The Living Traditons of Old Kyoto, and Wabi Sabi: The Art of Everyday Life.