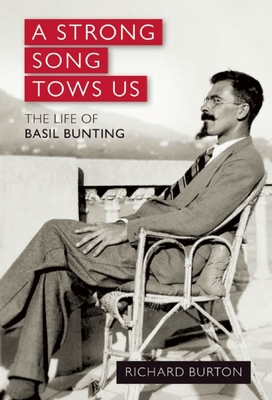 A Strong Song Tows Us
Paperback

* Individual store prices may vary.
Description
Basil Bunting, one of the greatest modernist poets, had an extraordinary life. Born in the mining village of Scotswood in Tyneside in 1900, after a largely Quaker education, during which at the age of 13 he met the love of his life, he left school in 1918 and went straight to prison as a conscientious objector. In Paris in the early 1920s after working as an artist's model and road mender he was rescued from another spell in prison by Ezra Pound and Ford Madox Ford and became Ford's assistant on the pioneering modernist magazine, the Transatlantic Review.

Excluded from France he found himself with Pound and W. B. Yeats in Rapallo on the Italian Riviera where he worked on sand boats and wrote the poems that formed the backbone of Pound's influential Active Anthology. Bunting spent the first part of the 1930s in the Canary Islands but fled to London with his young family at the outbreak of the Spanish Civil War. After his newly pregnant wife left him and took their two children to the US he lived on a boat on the south coast of England, trained as a seaman and captained yachts in America.


During the Second World War his knowledge of classical Persian earned him a job as a translator in Iraq, after which he served as a spy in the region culminating in his promotion to Vice Consul in Isfahan. Compelled to leave the embassy because of his remarriage to a local woman, he became Middle East correspondent for the Times until he was thrown out of Iran by Mossadeq in 1953. A barren period followed until his poetic masterpiece, Briggflatts, caught the literary world's attention in 1965.


Literary fame brought Bunting no relief from grinding poverty and he died at the age of 85, impoverished but with a lasting poetic legacy. Underneath this captivating tale of action, adventure and lasting friendships with some of the greatest writers of the 20th century (Yeats, Pound, T. S. Eliot, William Carlos Williams, Louis Zukofsky and many more) lies one of the greatest love stories of the twentieth century.

Prospecta Press, 9781935212102, 608pp.
Publication Date: April 7, 2014