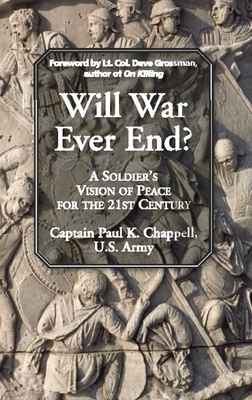 Will War Ever End?
A Soldier's Vision of Peace for the 21st Century
Paperback

* Individual store prices may vary.
Other Editions of This Title:
Hardcover (2/1/2009)
Description
Once in a great while, a book is written that substantially changes the way people think about a particular subject. Will War Ever End? is such a book. Written as a "manifesto for waging peace" by an active duty captain in the US Army, Will War Ever End? challenges readers to think about peace, war and violence in radically new ways. "Are human beings naturally violent?" "What is hatred?" "How can love overcome the power of hatred?" "How does nonviolence overcome the power of violence?" "How can we prove that unconditional love makes us psychologically healthy and that hatred, just like an illness, occurs when something has gone wrong?" "How does violence against the natural world relate to violence between human beings?" These are all questions that Captain Paul K. Chappell leads us to consider in a strikingly new way. In Will War Ever End?, Chappell demonstrates that human beings are naturally peaceful and that world peace can become more than a clich . He lays out a practical framework for transforming the way we think about war and violence, enabling us to begin the real work we must do in order to achieve true peace for mankind. Will War Ever End? is a deeply personal story of a soldier's search for human understanding that will lead to universal transformation. Its message is one of hope, offering practical solutions to help us build a better world. We can all make change. Now is the time to begin.
Praise For Will War Ever End?: A Soldier's Vision of Peace for the 21st Century…
Captain Chappell has written a lucid, eloquent, compelling book, a wonderful book The abolition of war is possible, providing we do the work of creating trustworthy structures of collective security and waging peace as Captain Chappell models for us." - Jonathan Shay, M.D, Ph.D, 2009 Omar Bradley Chair of Strategic Leadership, US Army War College; MacArthur Fellow, author of Achilles in Vietnam and Odysseus in America (foreword by Senators John McCain and Max Cleland)

Nobel Laureates are generally people who have brought complex and confusing issues to a level of beauty and simplicity. With that same skill, Captain Paul K. Chappell of the U.S. Army has done this in analyzing the insanity of war. We must end this diabolical institution now! His book, Will War Ever End?: A Soldier's Vision of Peace for the 21st Century gives us the necessary orientation. May God bless his work." - Blase Bonpane, Ph.D., Director of the Office of the Americas, Senior Research Fellow of the Council on Hemispheric Affairs, UCLA professor, host of the radio program World Focus on Pacifica Radio (Los Angeles), author of Guerrillas of Peace on the Air and Common Sense for the 21st Century.

I recently read Paul K. Chappell's book and found it extraordinary in its clarity and insight. It is not often that one comes across a book that is a passionate and reasoned plea for ending war. It is even rarer to find a book like this written by a young soldier Chappell has written a thoughtful and valuable meditation on the need to end war by waging peace. I recommend it highly to everyone who cares about the future of humanity and other living creatures." - David Krieger, J.D., Ph.D., author, President of the Nuclear Age Peace Foundation, Chair of the Executive Committee of the International Network of Engineers and Scientists for Global Responsibility

It is incumbent on all who endorse the way of nonviolence to become assertive agents of change. One person who has taken up the challenge is Captain Paul K. Chappell, U.S. Army. He has written a remarkable little book based on personal experience and study, Will War Ever End? A Soldier's Vision of Peace for the 21st Century. His thesis is compelling, and if generally embraced, could be harbinger of a turn around in human acceptance of war as a given, similar to the turn around in human acceptance of slavery as a given I cannot recommend this book highly enough. It is perfect for book clubs and congregational study groups. It's a quick read, but profound, and is sure to provoke substantive discussion." - Rev. Dr. Allison Stokes, Director of the M.K. Gandhi Institute for Nonviolence, Director of the Interfaith Chapel, University of Rochester

Will War Ever End?, by Army Captain Paul K. Chappell, is a personal, passionate and deeply informed exploration of war and human nature by a man whose life has been profoundly shaped by militarism. This book represents an important contribution to the literature of war and peace It's a powerful piece of writing." John Horgan, Senior Writer at Scientific American (1986-1997), author of the Undiscovered Mind and Rational Mysticism, Director of the Center for Science Writings at the Stevens Institute of Technology

The anthropologist Margaret Mead said, Never doubt that a small group of thoughtful, committed citizens can change the world. Indeed, it's the only thing that ever has.' This is an idea that finally solidified in my mind while enjoying Captain Paul K. Chappell's succinct and very important book Will War Ever End? A Soldier's Vision of Peace For The 21st Century This book is only 84 pages, but it's the biggest book I've read in years. It is the very rare kind of book that surprises and transforms, and leads us gently but completely to a revolution in thinking. It could very likely become required reading." - Book Review on Livewriters.com by Emily Kischell

Captain Paul K. Chappell of the U.S. Army writes a very persuasive book with his Will War Ever End? A Soldier's Vision of Peace for the 21st Century. Comparing the tolerance of war to the tolerance of slavery, serfdom, and subjugation of women all of which are now almost universally deemed unacceptable and unthinkable Chappell argues that through peaceful demonstration to governments and global re-education of people, we can see the end to war in our lifetime. Halleluiah, I'm on board." - Nina Sankovitch, Readallday.org
Easton Studio Press, 9781935212225, 84pp.
Publication Date: January 25, 2011
About the Author
Paul K. Chappell graduated from West Point in 2002. He served in the army for seven years, was deployed to Baghdad, and left active duty in November 2009 as a Captain. He is the author of Will War Ever End?: A Soldier's Vision of Peace for the 21st Century and The End of War: How Waging Peace Can Save Humanity, Our Planet, and Our Future (May 2010). He lives in Santa Barbara, California, where he is serving as the Peace Leadership Director for the Nuclear Age Peace Foundation. He is working on his third book, Peaceful Revolution: How to Create the Future that Humanity Needs to Survive, and he speaks throughout the country to colleges, high schools, veterans groups, churches, and activist organizations. Dave Grossman: Lt. Col. Dave Grossman is an internationally recognized scholar, author, soldier, and speaker who is one of the world's foremost experts in the field of human aggression and the roots of violence and violent crime. Col. Grossman is a former West Point psychology professor, Professor of Military Science, and an Army Ranger who has combined his experiences to become the founder of a new field of scientific endeavor, which has been termed "killology." In this new field Col. Grossman has made revolutionary new contributions to our understanding of killing in war, the psychological costs of war, the root causes of the current "virus" of violent crime that is raging around the world, and the process of healing the victims of violence, in war and peace. He is the author of On Killing, which was nominated for a Pulitzer Prize; has been translated into Japanese, Korean, and German; is on the U.S. Marine Corps Commandant's required reading list; and is required reading at the FBI academy and numerous other academies and colleges. Col. Grossman co-authored Stop Teaching Our Kids to Kill: A Call to Action Against TV, Movie and Video Game Violence, which has been translated into Norwegian and German, and has received international acclaim. Col. Grossman's most recent book, On Combat, has also placed on the U.S. Marine Corps Commandant's Required Reading List and has been translated into Japanese and Korean.
or
Not Currently Available for Direct Purchase