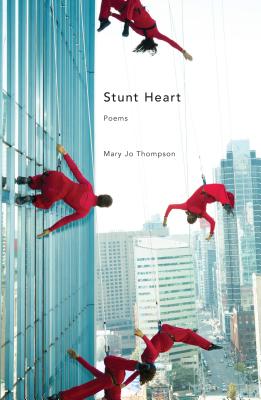 Stunt Heart (The Backwaters Prize in Poetry)
Paperback

* Individual store prices may vary.
Description
In Stunt Heart, Mary Jo Thompson's debut collection, a female gaze locates the ironies inside the subjects of marriage and death, loneliness and love, speaking and silence. The title plays on both sick hearts and circus tricks, and appropriately, these poems are direct, personal, and disarmingly emotive. Look at the end of the first poem, "Says Penelope," where the speaker suddenly veers to "Newsflash: I sleep- / walk." These stark moments of admission are used to perfection in the centerpiece sonnet series, "Thirteen Months," the collection's highlight. Distilled emotion over the illness and death of an estranged husband ranges in tone from the dark humor that compares the marriage to a used car to the elegiac imagery of protecting the family garden from frost. The shock of seeing the deceased in his casket looking like a cross between Clark Gable and Dracula seasons the collection, recurring in ruminations on the various ways a body is prepared at death and the story of a mother who dies while sneezing.

Although no one brings back the dead by writing poetry, in Stunt Heart, Thompson revisits them with credible humor and tough dispatches from bedrooms, graveyards, and hospital hallways. Thompson's Stunt Heart jukes, dodges, and prays while muscling through all manners of demise and in the process reveals how one can turn grief into speech, art into grieving.
 
Praise For Stunt Heart (The Backwaters Prize in Poetry)…
"I admire the hard precision of these sad and humorous poems whose central concern is the confusion of death with marital love. For me, this theme culminates in the powerful sonnet sequence 'Thirteen Months' (published in The Best American Poetry). Here, form imitates feeling as Mary Jo Thompson's sonnets expand and contract like a stunt heart beating. I also admire the patient work of language throughout this collection—language that is always striving toward truth and the controlled magic of poem-making."—Henri Cole
 

"When the heat of the passionate tongue encounters, by winter's laws, the frozen surface of life's betrayals, a 'smarting / mouth,' bleeding, freed, cooled by snow—speaks with a colder, finer precision. This is Thompson's own metaphor for the self that survives by speech—hers with eloquent mockery, rueful playfulness, candor, sheer nerve, words that 'make / that long run / down black keys. . .' such a lively cascade of tempered sound, the heaviness of truth lightened by mastery of style."—Eleanor Wilner
 

"Maybe what we conceive of as the heart is really the attentiveness we bring to our own lives. In poems that are as intense in their candor as in their craft, Mary Jo Thompson's attention is fearless, vulnerable, and gorgeous. Stunt Heart surveys the heart's desires and its failings and finds a world where the past is 'helixed inside us' and 'crows are loud, incessant.' Here there is no escaping grief, but there's no escaping joy, either. Unabashed even in the face of pain, Thompson keeps reminding us of the heart's, and poetry's great stunt: 'We will talk to the end / in that way love // has taught us."—Rick Barot
 
The Backwaters Press, 9781935218463, 90pp.
Publication Date: August 20, 2017
About the Author
Mary Jo Thompson's work has been anthologized in Best American Poetry 2011 and Another and Another: An Anthology from the Grind Daily Writing Series. Her poetry has appeared in numerous literary journals including, Field, Beloit Poetry Journal, RHINO, Indiana Review, Carolina Quarterly, Great River Review, Sows Ear Poetry Review, and Minnesota Monthly, among others. She holds an MFA in creative writing from the Program for Writers at Warren Wilson College. Stunt Heart is the winner of the 2016 Backwaters Prize.