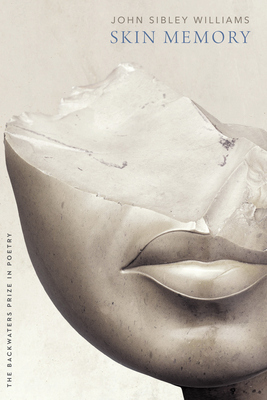 Skin Memory (The Backwaters Prize in Poetry) (Paperback)
The Backwaters Press, 9781935218500, 96pp.
Publication Date: November 1, 2019
* Individual store prices may vary.
Description
A stark, visceral collection of free verse and prose poetry, Skin Memory scours a wild landscape haunted by personal tragedy and the cruel consequences of human acts in search of tenderness and regeneration. In this book of daring and introspection, John Sibley Williams considers the capriciousness of youth, the terrifying loss of cultural identity and self-identity, and what it means to live in an imperfect world. He reveals each body as made up of all bodies, histories, and shared dreams of the future.

In these poems absence can be held, the body's dust is just dust, and though childhood is but a poorly edited memory and even our well-intentioned gestures tend toward ruin, Williams nonetheless says, "I'm pretty sure, everything within us says something beautiful."
 
About the Author
John Sibley Williams serves as editor of the Inflectionist Review and works as a literary agent. He is the author of four poetry collections, including As One Fire Consumes Another, which won the Orison Poetry Prize; Disinheritance; and Controlled Hallucinations. He lives in Portland, Oregon. 
 
Praise For Skin Memory (The Backwaters Prize in Poetry)…
"Skin Memory by John Sibley Williams is about the impressions and imprints we leave on the world. Both physically and psychologically, Williams recognizes the haunting interconnectedness of all things, the ever-evolving nature of the world and the scars we trade with it. While dissecting humanity's cruelty toward nature and itself, he yet invokes a tenderness, a final hope that maybe we can still bend our swords into plowshares."—Michael Prihoda, After the Pause
— Michael Prihoda
"This collection is one that seeps far beneath your skin and memory—and stays there."—Noreen Ocampo, Counter Clock
— Noreen Ocampo
"Throughout the pages of this mesmerizing book John allows us time to ponder about the concepts he places into poems—grief, loss, death and dying, identity, tragedy, awakening to some greater aura of being. The poems are grounded in reality, all the more available to enter our philosophy into the stages John creates. . . . There is no doubt that John Sibley Williams is a major voice in poetry today."—San Francisco Review of Books
— San Francisco Review of Books
"John Sibley Williams, with his new collection, winner of The Backwaters Prize in Poetry, plunges readers into the heart of a seething memory-scape where everything feels fraught and perilous, but darkly gorgeous, too."—Danielle Vermette, Oregonian
— Danielle Vermette
"Skin Memory by John Sibley Williams is an amazing collection that tackles large themes while grounding each moment in real life. A harrowing collection that strives for peace and hope, a journey into the self and outside of it. We have a memory, and there's a memory of life that surrounds us. When the skin of us is gone, where do those memories go, how do they live on? They live on in the words we share, the stories we tell, and the moments we cherish with others. Connection is the greatest gift of all."—savvyverseandwit.com
— savvyverseandwit.com
"This is a collection that you will want to read again. One that sticks with you."—Jarad Johnson, Sacred Chickens 
— Jarad Johnson
"In Skin Memory, Williams gives us plenty of opportunity to slow down and meet poems face-to-face. Plenty of opportunity to engage in deep conversation, to develop deep listening, to examine quick assumptions, and to see things anew. Plenty of opportunity to feel. Plenty of opportunity to resonate. Plenty of opportunity to connect."—Jo Freehand, River Heron Review
— Jo Freehand
"Skin Memory certainly presents John Sibley Williams as a type of poetic tour de force with his lyrical dexterity. The collection is strong, playful, and curated with continuity. These poems are to be discussed, cherished, protected, read aloud and performed, but most of all, to be enjoyed."—Liam Anthony, Independent Book Review
— Liam Anthony
"Williams's newest collection is rain-soaked in past emotional and rural landscapes where nature runs riot, even in winter."—Stephen Scott Whitaker, Broadkill Review
— Stephen Scott Whitaker
"Skin Memory is a beautiful reclamation of past pains and beauties, allowing readers to once again experience the sensations of life—of lifetimes, even—as it has been written upon our very bodies. Williams forces us to come to terms with our own hopes and failures, immerse ourselves in our own humanity, and recognize what it means to live within a collective experience."—Rachel Harper, Grist Journal
— Rachel Harper
"Skin Memory is a delightful collection that is equal parts comfort and unsettling, purposeful and powerful in its moves. Sibley Williams lingers in each poem just long enough to paint a portrait of what living in a changing world looks and feels like—the result of which is a collection that meditates on what the layering of the past, present, and future produces."—Christa Rohrbach, Bellingham Review
— Christa Rohrbach
"These poems move with unhurried purposefulness so that you trust the seething urgency and deliberateness of lines like 'memory is a language that's survived its skin' or the painfully earned benediction and expression of resigned hope in 'whatever finally breaks me, I cannot refuse it.' Splendid poetry, never seeking to pander in its accessibility, but always, nonetheless, as plainspoken as each complex idea will allow."—Kwame Dawes, professor of English at the University of Nebraska–Lincoln and the Glenna Luschei Endowed Editor of Prairie Schooner

 
— Kwame Dawes
"In John Sibley Williams's new book Skin Memory, a child inherits an earth haunted by the violence of the past—landscape of his own skin. What then, identity? Skin memory, as opposed to blood memory, is porous. In these poems Williams feels himself across its divide, experiencing "the shrapnel seeing leaves behind in things," and does so in language mesmerizing as "the slow pulse oaks bring to the forest." I don't often encounter poems deep enough to settle into that are, at the same time, this deeply unsettling."—Melissa Kwasny, author of Where Outside the Body Is the Soul Today
 
— Melissa Kwasny
"Both imaginative and lucid, Skin Memory offers a rich cartography of our world as we've made it, a world of overlapping skins (human, animal, earth) that caress and wound and scar one another. Here there is no false nature/culture binary, but earth as palimpsest—a body made up of bodies, histories, and dreams of the future. Like the tattered fragments of Borges's Map of the Empire, Williams's world is always charged with mystery alongside human desire and folly: wherever our endeavors mark the landscape, there too the scrub grass peeks through."—Sarah Rose Nordgren, author of Darwin's Mother
 
 
 
— Sarah Rose Nordgren