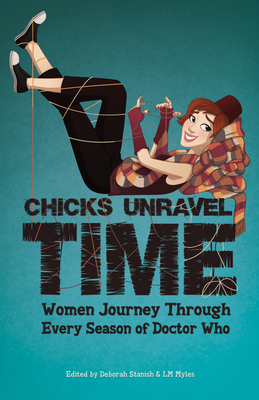 Chicks Unravel Time
Women Journey Through Every Season of Doctor Who
Paperback

* Individual store prices may vary.
Description
The sister book to the 2011 Hugo Award-winning Chicks Dig Time Lords In Chicks Unravel Time, editors Deborah Stanish (Whedonistas) and L.M. Myles bring together a host of award-winning female writers, media professionals, scientists and more to examine each season of new and classic Doctor Who from their unique perspectives. Diana Gabaldon discusses how Jamie McCrimmon inspired her best-selling Outlander series, and Barbara Hambly (the Benjamin January Mysteries, Star Wars: Children of the Jedi) examines the delicate balance of rebooting a series. Seanan McGuire (the Toby Daye series, Discount Armageddon) reveals the power and pain of waiting in Series Five, and Una McCormack (The King's Dragon) defends her claim that Sylvester McCoy's final year of Doctor Who is the show's best season ever. Other contributors include Juliet E. McKenna (Einarrin series), Tansy Rayner Roberts (Power and Majesty), Sarah Lotz (The Mall, Exhibit A), Martha Wells (The Cloud Roads), Joan Frances Turner (Dust), Rachel Swirsky (Fields of Gold), Aliette de Bodard (Obsidian and Blood series) and Amal El-Mohtar (The Honey Month).
Mad Norwegian Press, 9781935234128, 272pp.
Publication Date: November 13, 2012
About the Author
CA
or
Not Currently Available for Direct Purchase