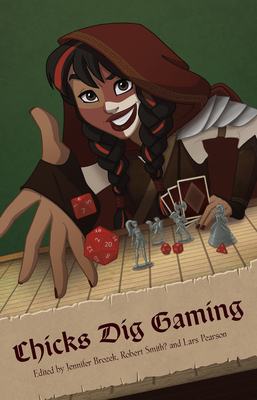 Chicks Dig Gaming
A Celebration of All Things Gaming by the Women Who Love It
Paperback

* Individual store prices may vary.
Description
In Chicks Dig Gaming, editors Jennifer Brozek (Apocalypse Ink Productions), Robert Smith? (Who is the Doctor?) and Lars Pearson (editor-in-chief, the Hugo Award-winning Chicks Dig series) bring together essays by nearly three dozen female writers to celebrate the gaming medium and its creators, and to examine the characters and series that they love. Catherynne M. Valente (The Girl Who Circumnavigated Fairyland, Indistinguishable from Magic) examines Super Mario Bros. through the lens of Samsara, the Wheel of Birth and Rebirth; Seanan McGuire (the October Daye series) details how gaming taught her math; G. Willow Wilson (Alif the Unseen) comes to terms with World of Warcraft; and Rosemary Jones (Forgotten Realms) celebrates world traveler Nellie Bly and the board game she inspired. Other contributors include Emily Care Boss (Gaming as Women), Jen J. Dixon (The Walking Eye), Racheline Maltese (The Book of Harry Potter Triffles), Mary Anne Mohanraj (Bodies in Motion), L.M. Myles (Chicks Unravel Time), Jody Lynn Nye (the MythAdventures series), and E. Lily Yu (The Cartographer Wasps and the Anarchist Bees).
Mad Norwegian Press, 9781935234180, 224pp.
Publication Date: November 11, 2014
About the Author
Catherynne M. Valente
is the author of over a dozen works of fiction and poetry, including Palimpsest, the Orphan's Tales series, The Habitation of the Blessed, Deathless and Six Gun Snow White. Time magazine named her fantasy novel The Girl Who Circumnavigated Fairyland in a Ship of Own Making as among the Top 10 fiction books of 2012. Indistinguishable from Magic, a collection of more than 60 of her essays, was published in 2014.
Seanan McGuire
has been gaming since middle school, when she first discovered the Fighting Fantasy books at a library book sale. She went on to dabble in many systems before embracing Champions (because math) and White Wolf (because the Order of Hermes). She can still recite the Code of Hermes, which is occasionally disturbing. Seanan is the author of multiple series, under both her own name and the name Mira Grant.
Racheline Maltese
is a performer and storyteller focused on themes of sex, gender, desire and mourning. Her training includes a journalism degree from The George Washington University, as well as acting and directing coursework at the Atlantic Theater Company Acting School (New York City) and the National Institute of Dramatic Art (Sydney, Australia). She wrote The Book of Harry Potter Trifles, Trivias and Particularities (Sterling and Ross, 2007). 
Robert Smith is the author of Who's 50: The 50 Doctor Who Stories to Watch Before You Die, the IPPY Award-winning Who is the Doctor and Modelling Disease Ecology with Mathematics (see if you can spot the odd one out). He's also editor extraordinaire of Outside In: 160 New Perspectives on 160 Classic Doctor Who Stories by 160 Writers, Braaaiiinnnsss!: From Academics to Zombies and two volumes of Time, Unincorporated, all of which have brought a multitude of new voices into the conversation.
or
Not Currently Available for Direct Purchase