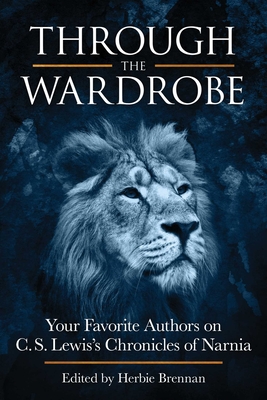 Through the Wardrobe
Your Favorite Authors on C.S. Lewis' Chronicles of Narnia
Paperback

* Individual store prices may vary.
Description
The third in the latest film version of C.S. Lewis' beloved Chronicles of Narnia, The Voyage of the Dawn Treader, will be released in December 2010. In a crowded market of predictable tie-ins, Through the Wardrobe—a collection of always thoughtful, frequently clever explorations of the series by sixteen popular YA authors that proves the series is more than its religious underpinnings—stands out.

Step through the wardrobe and into the imaginations of these friends of Aslan as they explore Narnia—from The Lion, the Witch and the Wardrobe to The Last Battle, from the heart of Caspian's kingdom to the Eastern Seas. Find out:

• Why Edmund Pevensie is totally crush-worthy
• What tea and Turkish Delight have to do with World War II
• Why The Voyage of the Dawn Treader will be the best movie of the series
• What Susan really did to get herself booted out of Narnia (it wasn't the pantyhose or the lipstick)

The series' roots in C.S. Lewis' Christianity are important, but there's more to Narnia than just the religious symbolism. Through the Wardrobe, edited by internationally bestselling British fantasy author Herbie Brennan, reveals new levels of richness and delight the other Narnia books overlook.
Smart Pop, 9781935251682, 200pp.
Publication Date: November 2, 2010
About the Author
Herbie Brennan is the author of the New York Times bestselling Faerie Wars series, among many other titles, and the editor of Through the Wardrobe: Your Favorite Authors on C.S. Lewis's Chronicles of Narnia.

Contributors to Through the Wardrobe include: Deb Caletti, Brent Hartinger, Diana Peterfreund, Ned Vizzini, Sarah Beth Durst, Diane Duane, Kelly McClymer, Lisa Papademetriou, Sophie Masson, Elizabeth E. Wein, Susan Juby, Susan Vaught, O.R. Melling, Zu Vincent, and Kiara Koeing