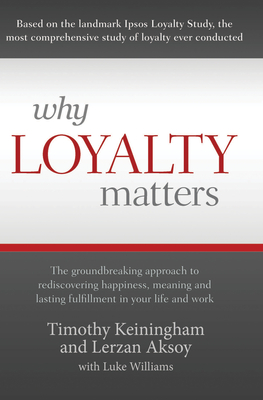 Why Loyalty Matters
The Groundbreaking Approach to Rediscovering Happiness, Meaning and Lasting Fulfillment in Your Life and Work
Paperback

* Individual store prices may vary.
Other Editions of This Title:
Digital Audiobook (1/28/2010)
MP3 CD (1/29/2010)
Compact Disc (1/29/2010)
Description
For decades we've been told that we live in fast-paced, dog-eat-dog world, that loyalty gets you nowhere, and that we must look out for number one We've been told that to succeed we have to constantly reinvent ourselves, let go of past relationships, and move on to greener pastures. And we've been told that all this is good. But it's not good. Why Loyalty Matters is grounded in the most comprehensive study of loyalty ever conducted, and what it reveals can change your life. The science is very clear - when it comes to business success, satisfaction in our relationships and even overall happiness, loyalty is essential. Renowned loyalty experts Timothy Keiningham and Lerzan Aksoy combine their own groundbreaking research with the leading thinking in philosophy, sociology, psychology, economics and management to provide a comprehensive guide to understanding what loyalty is, what it isn't and how to unlock its power in your personal and professional life. Why Loyalty Matters includes one-user access to LoyaltyAdvisor.com, the ultimate loyalty assessment tool. The LoyaltyAdvisor is the product of a global, comprehensive research effort to identify the loyalties most important to our success and happiness. On the reverse side of the book jacket is a scratch-off sticker that reveals a unique identification code that allows readers access to LoyaltyAdvisor. This Web-based interview analyzes loyalty across multiple dimensions proven to link to happiness, and benchmarks your relationship style and loyalty level vis- -vis the top 15% of individuals in life satisfaction. Even more, LoyaltyAdvisor allows your friends and associates to assess your loyalty, providing you with objective, confidential third party feedback. The LoyaltyAdvisor assessment will provide you with a critical guide to building deeper, truer loyalties in every area of your life.
Benbella Books, 9781935251798, 246pp.
Publication Date: April 6, 2010
About the Author
Tim Keiningham is a world-renowned authority in the field of loyalty measurement and management. He is chief strategy officer and executive vice president for Ipsos Loyalty, one of the world's largest research organizations. A prolific author, Tim has coauthored numerous books on loyalty and service: Loyalty Myths, The Customer Delight Principle, Service Marketing and Return on Quality. Tim is also an acclaimed scientific researcher, having won numerous awards for his research. He is one of only a very small number of scientific researchers to have twice won best paper from the Journal of Marketing, the most prestigious scientific journal all of management and economics (as measured by the citation index). Lerzan Aksoy is an acclaimed expert in the science of loyalty management. She is associate professor of marketing at Fordham University, New York. Lerzan has coauthored and co-edited several books on loyalty and service: Loyalty Myths, Customer Lifetime Value and Profit Maximization Through Customer Relationship Marketing.
or
Not Currently Available for Direct Purchase