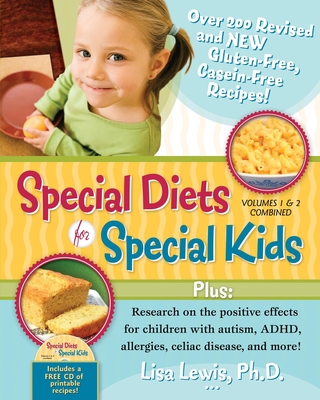 Special Diets for Special Kids, Volumes 1 & 2 Combined [With CDROM] (Paperback)
Future Horizons, 9781935274124, 375pp.
Publication Date: May 25, 2011
Other Editions of This Title:
Hardcover (1/1/1998)
Hardcover (1/1/2001)
* Individual store prices may vary.
Description
Praised as a modern-day classic by celebrities and readers all over the world, the first edition of Special Diets for Special Kids has been helping children and adults with autism, ADHD, celiac disease, and other disorders since 1998. Special Diets for Special Kids Two followed up in 2001 by providing more recipes and updated research. Now, this revised and expanded edition offers both books in one, complete with the latest research, revised recipes, and color photos throughout The first part of the book describes dietary intervention in detail, from both a scientific and a personal approach (the author's son has autism and has been on a GFCF diet for many years). In a nutshell, certain enzymes are required to break down gluten and casein. If those enzymes don't function well, or are not present at sufficient levels, serious neurological problems can result. Studies have shown that children with autism have a marked deficiency of these enzymes, which may explain why GFCF diets have yielded positive results for many children. Among many other helpful topics, Dr. Lewis explains:
The Biology behind Dietary Interventions
"Leaky Gut"
Allergies, Sensitivities, and Intolerances
Antibiotics and Probiotics
Vitamins and Minerals
Testing and Nutritional Support
Other Diets and Interventions
How to Go GFCF
The second part of the book is an easy-to-follow cookbook. This section contains
over 200 recipes
, including many you would have never thought possible on a GFCF diet, such as:
Banana-Nut Pancakes
Blueberry Muffins
Tortillas/Wraps
Chicken Nuggets
Shepherd's Pie
Mock Mac and Cheese
Chili
Turkey Dressing
Cakes and Cookies
And many, many more
Best of all, this book comes with a
FREE CD of printable recipes
, so you can easily print out recipes as you use them and keep the book away from counter spills and drips
About the Author
Lisa Lewis earned her Ph.D. in Biological Anthropology from New York University, where she studied genetic variation. Her son's autism diagnosis and her family's successful adoption of the gluten-free casein-free diet led to her award-winning Special Diets for Special Kids series. Lisa continues to be a pioneer in the field of dietary intervention.
Praise For Special Diets for Special Kids, Volumes 1 & 2 Combined [With CDROM]…
"Special Diets for Special Kids has a prominent position in our allergen-free household! We all have various food allergies and this is one resource I won't be without. Each recipe thus far has been wonderful and surprisingly simple. The Baked Kibbe, Sloppy Joes, and Hamentashen have quickly become family favorites. Eating without gluten, especially, has changed our 'hyper' son's behavior drastically and he's no longer the fussy eater that he was. His teacher was shocked at the change for the better. Oh, and our dinner guests without dining challenges love this food as well. Thank you for this indispensable resource!"
--Tamara Dever, Creative Director, TLC Graphics, and mom of family with food allergies
"The writings of Lisa Lewis have made a huge impact on the field of autism. As an educator and a parent, Dr. Lewis has been instrumental in describing the issues of gluten and casein sensitivities, and how these problems affect the behavior of autistic individuals. She has changed the lives of many autistic individuals and their families."--Stephen Edelson, Ph.D., Director of the Center for the Study of Autism
"Lisa Lewis' contribution to the understanding of biomedical aspects of autism have been considerable. ... [Special Diets for Special Kids] also concentrates on the practical applications of knowledge and understanding. It is well-researched, well written, and very much needed."--Paul Shattock, Autism Research Unit, University of Sunderland