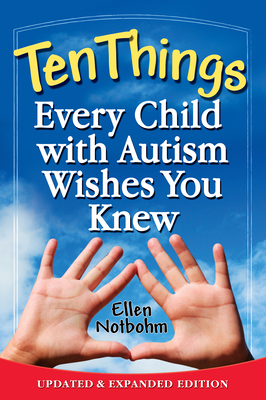 Ten Things Every Child with Autism Wishes You Knew (Paperback)
Updated and Expanded Edition
Future Horizons, 9781935274650, 200pp.
Publication Date: October 1, 2012
* Individual store prices may vary.
Description
Winner of an iParenting Media Award and Finalist in the 2006 ForeWord Book of the Year Awards Ellen Notbohm's first book, Ten Things Every Child with Autism Wishes You Knew, was a shot heard throughout the worldwide autism community. Now, for the teacher in all of us, comes Ten Things Your Student with Autism Wishes You Knew. The unique perspective of a child's voice is back to help us understand the thinking patterns that guide their actions, shape an environment conducive to their learning style, and communicate with them in meaningful ways. This book affirms that autism imposes no inherent limits on achievement, and that both teacher and child "can do it." It's the game plan every educator, parent, or family member needs to make the most of every teachable moment in the life of these children we love. Helpful chapters include: -Learning is Circular: We are all both teachers and students. - We are a Team: Success depends on all of us working together. - I Think Differently: Teach me in a way that is meaningful to me. - Behavior is Communication: Yours, Mine and Ours. -Teach Me How to Fish: See me as a capable adult and hold that vision.
About the Author
Book author, columnist, and mother of sons with autism and ADHD, Ellen Notbohm's writings on autism and general interest subjects have been published all over the world. Her books, "Ten Things Every Child with Autism Wishes You Knew, Ten Things Your Student with Autism Wishes You Knew," and "The Autism Trail Guide" are "ForeWord" Book of the Year finalists. Both Ten Things books are also iParenting Media Award recipients. A regular columnist for" Autism Asperger's Digest "magazine and "Children's Voice," she also co-authored with Veronica Zysk "1001 Great Ideas for Teaching and Raising Children with Autism or Asperger's," a" Learning Magazine "2006 Teachers' Choice Award winner. Beyond autism, she is a frequent contributor to "Ancestry "magazine, has published political commentary in the "Chicago Tribune "and other newspapers around the U.S., and writes for numerous regional and national magazines on a range of subjects.