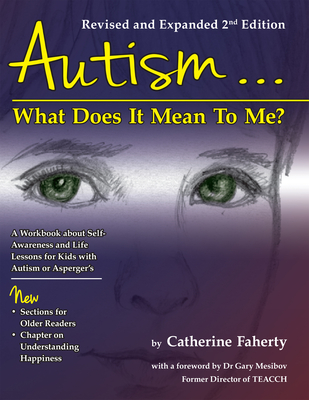 Autism
What Does It Mean to Me?: A Workbook Explaining Self Awareness and Life Lessons to the Child or Youth with High Functioning Autism or Asperger
Paperback

* Individual store prices may vary.
Description
Autism: What Does It Mean to Me? is an indispensable and transformative tool, and lifelong companion for autistic people, their parents and families, and professionals. Written by internationally renowned autism trainer, teacher, and advocate and best-selling author Catherine Faherty, the workbook is engaged by the autistic child or adult to enhance self-understanding and awareness and foster communication with others about needs, preferences, and identity. Most every facet of a person's life is explored, including areas particular to autism, and areas every person engages with. Among these are: ways of thinking, including focused interests perfection versus doing your best the support of schedules sensory experience, including stimming creative expression learning about and interacting with people writing Social Stories understanding speech and expressions in others types of communication, including verbal or nonverbal self-advocacy and miscommunication supportive structures for school and approaching IEPs friendship, play, online acquaintances and safety emotions, including feeling anxious or upset, depression, and outbursts The book concludes with an extended section on happiness, including relaxation, exercise, gratitude, forgiveness, kindness, positive attitude, and making the world a better place. Extensive materials designed especially for older readers, as well as for parents, therapists, and teachers, are included. Understanding what's actually true and supporting acceptance and appreciation form the cornerstones of Catherine's approach and the workbook. This new book is completely updated and revised from the original edition with the "Asperger's" title. It adds more than 150 pages of brand new material and worksheets.
Future Horizons, 9781935274919, 512pp.
Publication Date: June 15, 2014
About the Author
Catherine Faherty taught a variety of students with diverse learning styles before creating a model classroom in 1985 for elementary-aged students with ASD. From 1990 to 2012 she worked as an autism specialist with the internationally recognized TEACCH program in Asheville, North Carolina as a parent consultant; child and adult therapist; consultant to school programs; trainer of teachers and other professionals locally, nationally, and internationally; and facilitator of social groups for adults on the spectrum along with support/education groups for parents and family members. She has written manuals used in TEACCH trainings, co-developed a multitude of training models, and is the author of three books, one of which was recognized as the Autism Society of America's 2009 Outstanding Literary Work. Catherine is one of the few authorized Social Stories(TM) instructors by Carol Gray. Her mentoring and consultation (via long-distance technology) is sought after by therapists, teachers, and parents in the US and abroad. She speaks at conferences and provides trainings world-wide. Catherine is a devoted ally to autistic self-advocates. For more information: catherinefaherty.com.