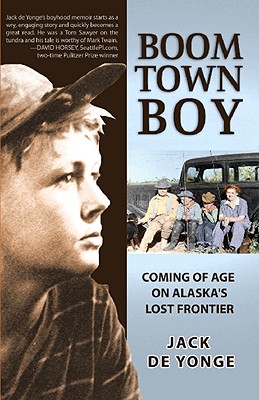 Boom Town Boy
Coming of Age in Alaska's Lost Frontier
Paperback

* Individual store prices may vary.
Description
This is the witty, ironic, and deliciously outspoken coming-of-age memoir of Jack de Yonge set in Fairbanks, Alaska -- a once thriving little mining town slowly dying in the remote center of the vast territory in 1934. As Jack's dad liked say, no matter what direction you went out of town, you soon arrived in Nowhere.
Then, World War II breaks out, and the Japanese attack Alaska. The sleepy little river town springs back to life with the arrival of thousands of U.S. soldiers, Russian lend-lease pilots, and construction workers who keep the red-light district busy and the bars rocking around the clock.
The son of a hardwareman at the N.C. Company and a black Irish daughter of the gold rush, de Yonge is a fist-fighting, music-loving altar boy who discovers his own truths about sex, religion, racism, and how the world works. His earthy story describes how war arrives in a small Alaska town next to Nowhere--and nothing is ever the same again.
Praise For Boom Town Boy: Coming of Age in Alaska's Lost Frontier…
A memoir as sparkling as a spring-thaw icicle and as honest and revealing as yellow snow. --Tom Robbins, author of "B is for Beer"
"Jack de Yonge's boyhood memoir starts out as a wry, engaging story and quickly becomes a great read. His lean, evocative prose, salted with acerbic wit and impressive detail sends the reader on an energetic romp through Alaska's rough-edged, mid-20th Century frontier. Best of all, de Yonge perfectly captures life through the eyes of a child where a flood, a child's drowning or bullies lurking in the street loom as large as the perils of Odysseus. Refraining from both sentimentality and psychobabble, de Yonge presents his boyhood in all its rambunctious, randy reality. He was Tom Sawyer on the tundra and his tale is worthy of Mark Twain." --David Horsey, Seattle Times
"Boom Town Boy vividly portrays a frontier Alaska that no longer exists. Readers will thank Jack DeYonge - the Boom Town Boy himself - for describing his youth colorfully and transforming his memories into compelling prose. It must be said - Boom Town Boy is unique contribution to Alaska history." -- Michael Carey, Anchorage Daily News
Libby Martin -
Fairbanks Daily News-Miner
 Children see the world through a unique prism. With little experience due to their short time on planet Earth, they experience life without a background to which to compare things. For this reason, every day is a new adventure, every adventure an exciting and marvelous journey.
Maybe that's why they see everything with such awe and wonder, because it is novel and original, unlike anything they've ever experienced.
And even though we've all looked through that prism, we forget as we get older, and more jaded, have new experiences with which to compare the old, and start seeing the world through our "adult" binoculars rather than the child's mirror.
Former Fairbanksan Jack de Yonge, however, does a pretty good job of reverting to that childhood prism in his new memoir, "Boom Town Boy: Coming of Age on Alaska's Lost Frontier." Jack has more than 40 years of writing experience behind him, so even though the book was written by an adult, he has found a way to tap into that childhood prism, setting down his adventures and escapades as a "good bad boy" in 1930-40's Fairbanks.
"It was a tiny, isolated town," Jack writes in the introduction. "… a walk away from wilderness — where a boy could, and did, find an abundance of adventure."
His adventure began early in the morning on July 4, 1934. Fairbanks was a former mining town, remote, still somewhat untamed, the end of the road. He writes, "The nice thing about Fairbanks, my dad liked to joke, was that no matter what direction we took out of town, we soon arrived in Nowhere."
Jack was born to the accompaniment of fireworks and other explosions, typical early Fairbanks Independence Day celebrations. He portrays his birth this way: "I skidded into existence early the morning of July 4, 1934, … when a great 'BOOM!' startled my mother into making a sudden contraction that shot me, forehead first, into the world."
He was the first child of Harry de Yonge, 54, who had lived in Fairbanks since its early days, and Eva Marie Delaney de Yonge, 33, Irish daughter of the Dawson Delaneys, a family which had arrived in Dawson, Yukon Territory in the Klondike Gold Rush. Though she and Harry were both Fairbanksans, they met in San Francisco, where Eva's parents moved from Fox and Fairbanks when Eva was in her 20s. Harry was the product of Captain John de Jonge, a Dutch captain from Emden, Germany. Harry sailed with his father as a boy, earning his rating as an able-bodied seaman.
Harry and Eva married, despite the difference in their ages, and returned to Fairbanks, where Harry worked at the N.C. Company as a clerk, and Eva did her best to make a comfortable home in frontier Fairbanks.
Jack grew up in a small log cabin on Wendell Street, right on the Chena River. Most of the houses were small lumber-built stick houses or hand-framed log cabins, many with sod roofs. Melting permafrost had given some of the residences an odd canter; some had sunk several feet into the ground. Streets were unpaved, made up of dirt, or mud during rainstorms. It had been some time since the gold boom faded, leaving the former boom town a quiet shadow of its old self.
Harry was one of the few early Fairbanksans who hadn't arrived looking for gold. He was a hardware man, after trying various vocations, including sailor, hod-carrier, ditch digger, salesman, and skunk trapper. He found he had the most important skill a hardware man needs to be successful — a "phenomenal memory."
The Delaney family was "lace curtain Irish," immigrants from Ireland, who left Dawson when the gold played out, taking a sternwheeler to the town of Chena and walking to Fox. Mary Delaney, Jack's grandmother, took 3-year-old Eva and her brother Finian, 7, by the hand, shouldered a pack, and hoofed it to where her husband had set up a placer mining operation west of Fairbanks. Years later, Jack writes, his mother remembered the hike as "a hot, humid torture of mosquitoes, moose flies, black flies, and gnats, and as a jostle of testy adults and crying children."
Jack writes of his boyhood fishing, hunting, trapping, going to Main School, trying to be a good Catholic boy, but also having natural urges to be a troublemaker. He talks of the neighborhood "gangs," and the fights that seemed as natural a part of life as below-zero weather and rows between his parents. As the years went by, he saw the changes in Fairbanks, meeting citizens who are larger-than-life-sized in our history books, but back then were just people. He writes of his new brother Harry, who was a big disappointment to the 3-year-old Jack.
He also talks, quite matter-of-factly, about the racism and prejudice endemic in society at the time. Though Native Alaskans were found throughout town, they and African-Americans were seen as lesser species by white townspeople; racial epithets and discrimination were natural parts of life. Jack recounts these matters throughout the book, as he recounts fishing trips and other aspects of life in Fairbanks. And here's where the adult and childhood prisms meld — though at the time it was natural, Jack points out that nowadays, it is abhorrent. He is able to see the child he was doing things that were acceptable at the time, though not any longer, and objectively note the fact. No apologies for the child he was, but a bit of an apology for the times.
The de Yonge family left Fairbanks when Jack was 16, after his father, then in his 70s, took a fall on the ice and broke his hip. Like his father-in-law Dan Delaney, who survived a broken back suffered in a fall down a mine shaft but could no longer mine, Harry found himself unable to carry out his duties and left N.C. This was before the days of pensions and workman's compensation, so the de Yonge family was in a bit of a bind. They had to move to California.
Jack resisted. He didn't want to leave Fairbanks, didn't want to live Outside. "I was a moody adolescent who found California too different," Jack said in an interview he gave while in town a few weeks ago. "I came back to my friends. I had a quaint notion that it would be easy for a 17-18 year old to make his way in Fairbanks."
He grinned wryly. "It wasn't quite that easy."
Jack began his newspaper career as a paper carrier for the Fairbanks Daily News-Miner. Years later, he graduated from University of Alaska Fairbanks, after a stint as the editor of the college paper, and worked at the FDNM and Anchorage times ("I was fired by Bob Atwood — I consider that a compliment," he says laughingly.)
He moved to Seattle to attend graduate school, and started a stint at the Seattle Times. He was an art critic and reviewer, who also spent six months reviewing the Seattle World's Fair.
After the Times, he moved to the Seattle Post-Intelligencer, right about the time the industry was changing from typewriter to computer. As an editor, he had to get the staff on board. That was the hardest part, he says.
He taught journalism at the community college level, but that only lasted about six years. then he went back to the PI, where he covered education, politics, and the environment for 27 years.
He recalls the riots in Seattle from 1968 through 1971, when he covered education. He covered these disturbances, some motivated by race, others by anti-war protestors, he said. It was a time of major upheaval, not just in Seattle. Nation-wide, it looked like the world was ending. In Seattle, there were bombings, the National Guard was deployed, and the university closed. Jack was right in the thick of things, trying to get the story out.
It's all good until the journalist becomes the story, one editor I knew told me. While covering a riot at the Seattle Community College, Jack became the story. He recounts the "high point" of his career this way:
"One minute I was awake, the next minute I was prone, looking up at brown legs. A noble black woman was guarding me from getting kicked in the head.
"(The Associated Press) led me off on the wire that afternoon," he continued. "I came home mildly drunk (to find my)mother in hysterics because she'd heard I was dead."
It was an exhausting time, he said, those riots, in the days before cell phones. Journalists were a target for both sides — "the cops hated us because we reported things we didn't like." Like using their personal firearms — deer rifles — during riot suppression. Later, though, Jack came to admire them, for their ability to work under tremendous pressure and danger, "they managed to cool people down."
He continued in journalism, sliding into environmental writing, then editorials. "I got tired of reading my own editorials," he said, so he came back to Fairbanks, then went back to the PI.
"I suffered from being bored by my own stuff."
He became a business consultant, "who is, of course, someone who is looking for a job." Then he joined the Washington state governor's staff, writing speeches and putting his journalist skills into researching and searching for facts to advise the governor and his staff on natural resources. In the end, he went back to writing.
Jack's book is a highly readable, well-written adventure. Through the eyes of a boy, we see Fairbanks as it used to be, at least to the child who experienced it. Like all history, it will be seen differently by others, because we all see things through our own lenses of background, genes, and expectations. Some may say Jack's memories are "wrong," that he's gotten his facts skewed, that things didn't happen that way.  
But he makes it clear these are his memories. He makes no effort to call this a comprehensive, historically accurate textbook or reference book. It's what he experienced, and that's what makes it so interesting. No one else could have written this particular book, because no one else looks at the world the way Jack de Yonge did when he was young.
"Boom Town Boy" was written, he said, "partly to amuse myself and others." He also wanted to leave something for his son and grandchildren – "where their genes come from, at least on one side."
What eventually became the book was carved out of a lot of larger pieces, he said. He credits "good editors who threw a lot of dross out." It took him about nine months to put the book together Some of it was just "plain old reporting,:" he said. "How much do you say about this and that."
For the past 40 years, Jack has written about 2,000 words a day. "They're not always perfect," he said. But he writes. And that practice is evident in his book. Adventurers of all stripes will enjoy this look back at the Fairbanks that was. Some may remember things a little differently, some may say, "Hey, were we even in the same city?" But everyone will enjoy it. It's worth the ride.  
John B. Saul - Seattle Times
Jack de Yonge recalls a moment in his childhood when he came "as close to exaltation as ever I would feel, a boy on the edge of a vast wilderness still long on animals and fish and short on people."
But as Fairbanks, Alaska, became long on people, de Yonge's childhood activities took place more and more amid adult shenanigans that are usually considered less than exalted.
In "Boom Town Boy: Coming of Age on Alaska's Lost Frontier," de Yonge, a veteran journalist whose career included stints at the Fairbanks News-Miner, The Seattle Times and the Seattle Post-Intelligencer, looks back on his early days in Fairbanks with "amused fondness," describing standard American boyhood activities such as music lessons, baseball and family outings, all against a backdrop of one hell-raising town.
From the moment he slid forth from his mother, who delivered when startled by a celebratory dynamite blast on July 4, 1934, de Yonge lived among rampant prostitution, drunkenness, open gambling, homophobia, pedophilia and violence of all sorts. Racism, he further notes, was embedded in the culture of "The Greatest Generation."
de Yonge survived all this with a droll wit, sympathy for the underdog and a distrust of "those in power and those with money." That point of view slips into the book in occasional jabs at the Republican Party and organized religion.
He presents his memoir in snippets, some describing events in Alaskan history, some covering boy adventures and explorations of Fairbanks' unsavory corners, as the city went from its post gold-rush slumber to the boom brought on by World War II.
Some of the vignettes end too abruptly, and the book has an unfinished feel about it; it needs another chapter to explain how that hard-to-manage boy who left Alaska after his sophomore year in high school became the accomplished man who ended up as a newspaperman, educator, environmental activist and political consultant in Washington state.
What the book does best is bring alive Alaska in the 1930s and '40s, when rough and tumble Fairbanks existed as "a time warp ... where a bit of the Nineteenth Century dangled into the Twentieth Century."
Epicenter Press (WA), 9781935347064, 255pp.
Publication Date: June 1, 2010
About the Author
Jack de Yonge is a retired newspaper reporter-editor, political-environmental activist, and avid fly-fisherman who lives with his wife, Sonjia, in Concrete, Washington. De Yonge's journalism career took him to the Fairbanks Daily News-Miner, the Seattle Times, and the Seattle Post-Intelligencer.