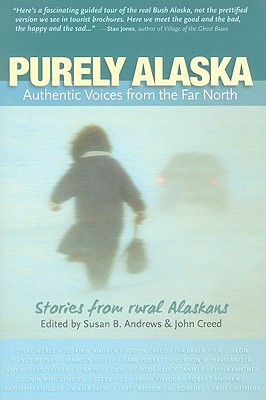 Purely Alaska
Authentic Voices from the Far North
Paperback

* Individual store prices may vary.
Description
In the immense, road less expanse of the Far North, storytelling has thrived for many generations. Stories range from harrowing survival adventures to tales of other exotic people, places, and cultures. This anthology captures some of these stories as told by rural Alaskans.
This volume is a sequel to Authentic Alaska. The majority of writers whose work appears here have lived in rural Alaska for many years. This anthology offers glimpses of regular people meeting life's everyday challenges while experiencing the same struggles, joys, and idiosyncrasies that humans face everywhere; adolescents coming of age, struggles with addiction, regional idiom, and cross-cultural challenges.
Praise For Purely Alaska: Authentic Voices from the Far North…
"Purely Alaska portrays the stunning physical world of Alaska and its spectacular challenges. These stories open the hearts and memories to reveal the pain and strength, the joy, endurance and faith of those who survive and thrive within Alaska's often unforgiving wintery power." - William L. Iggiagruk Hensley, author of Fifty Miles from Tomorrow
"The storytellers' settings are unforgettable, the adventures are remarkable, and the voices are inspirational.  These are stories Alaska can't afford to lose." --Sherry Simpson, author of
The Accidental Explorer
"
Purely Alaska
escorts readers on an unadulterated journey into the heart and soul of rural Alaska.  This anthology should be a top choice for educators seeking to ignite classrooms with the spark of insight, the fire of authenticity, the radiance of truth. 
Purely Alaska
speaks directly and honestly." --Sandra Shroyer-Beaver, president, board of education, and Dr. Norman Eck, superintendent Northwest Arctic Borough School District
"A major contribution to Far North literature,
Purely Alaska
honors the challenges, traditions, and wisdom of remote Alaska."  --Jerah Chadwick, former Alaska Poet Laureate
"These stories leap to the true side of things in our state, leaving behind the cardboard myth of Alaska - a good thing, and a great read." --Seth Kantner, author of
Ordinary Wolves
"Here are the beginnings of a true indigenous literature from modern rural Alaska.  These stories describe amazing situations in matter-of-fact style. Within the raw immediacy of the writers' experiences, we find great human themes of life in transition - pain and loss, redemtion and exaltation - all depicted before the astonishing backdrop of Alaska's natural and cultural landscapes." --Tom Kizzia, author of
The Wake of the Unseen Object
Epicenter Press, 9781935347101, 304pp.
Publication Date: June 1, 2010
or
Not Currently Available for Direct Purchase