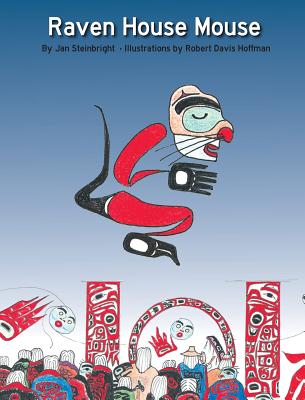 Raven House Mouse
Hardcover

* Individual store prices may vary.
Description
The enchanting story of how a mouse came to live in a Tlingit (Indian) clan house in Haines, Alaska, and became part of the culture. When the mouse finds the Tlingit clan house, he thinks he's sneaky enough to avoid being caught, but what he doesn't know is that the tribe leader is watching his every move.
Readers will learn about the rich Tlingit customs, be exposed to the language through an English-Tlingit Glossary, and be entertained my the mouse and his adventures.
Epicenter Press (WA), 9781935347835, 48pp.
Publication Date: September 1, 2017
About the Author
Jan Steinbright is a writer, oral historian, teacher and an artist. She has been involved with the administration and documentation of Alaska Native Cultural programs for 25 years and is the author/editor of Qayaqs and Canoes: Native Ways of Knowing, and My Own Trail, the life history of Howard Luke, an Athabascan tradition bearer. For 18 years, she edited the Journal of Alaska Native Arts and served as program coordinator for the Institute of Alaska Native Arts in Fairbanks.
Robert Davis Hoffman is a Tlingit artist from the village of Kake, a small Tlingit village on Kupreanof Island in Southeast Alaska. His major achievements are a book of poetry, Soulcatcher; set design for Perseverance Theatre's production of the "Tlingit Macbeth"; and the creation of the forty-eight-foot-long backdrop for Sealaska Corporation's biennial celebration of the Tlingit, Haida and Tsimshian tribal cultures in Juneau. He lives in Sitka in a stucco house, amid an ambrosial garden tended by his wife Kris. He teaches at Sheldon Jackson College, dreaming of studio space and impossible woodcarvings.