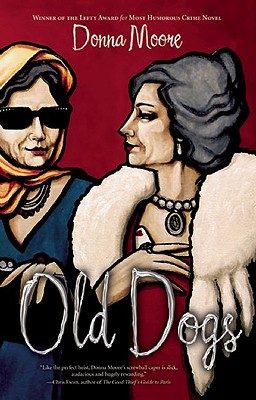 Old Dogs (Paperback)
Busted Flush Press, LLC, 9781935415244, 250pp.
Publication Date: June 1, 2010
* Individual store prices may vary.
or
Not Currently Available for Direct Purchase
Description
A comic crime novel centered around the heist of a pair of jewel-encrusted gold dog statuettes.
About the Author
Donna Moore is the author of GO TO HELENA HANDBASKET, her spoof PI debut which won the Lefty Award in 2007 for the most humorous crime fiction novel. She has also had short stories published in various anthologies, including BFP's DAMN NEAR DEAD and A HELL OF A WOMAN. Donna runs a blog which focuses on Scottish crime fiction.
Praise For Old Dogs…
"Two septugenarian sisters take the classic heist to new levels in this addictive caper... Will keep readers smiling if not laughing out loud. The author's clever wordplay, irreverant humor, and vivid characters will please Elmore Leonard, Donald Westlake, and Carl Hiaasen fans, not to mention the Ocean's Eleven crowd. A leisurely paced setup leads to a quick climax, making this a compulsive, enjoyable read." -- Library Journal, starred review

"I giggled my way through Donna Moore's Old Dogs... Filled with mayhem, torture, raw sexual banter, creepy chauffeurs, hired killers, and enough kilt-raising Scots profanity to shock a porn star... [A] ribald laugh-a-thon... I recommend Old Dogs highly to fans of Donald Westlake and Carl Hiaasen." -- Betty Webb, Mystery Scene

"Very funny... Hilarious and exhausting; you can't help but love Old Dogs." -- Valerie Ryan, Shelf Awareness

"Hilarious... A hypnotic and rollicking experience. Moore has got to be one of the funniest writers in or out of Glasgow." -- ForeWord Reviews

"Fast and furious with perfect timing and guaranteed to leave you smiling Old Dogs is one of my favorite books of 2010." -- Jon Jordan, Crimespree Magazine

"Liberally sprinkled with salty Glaswegian vernacular, the manically twisted tale reads like a contemporary but unusually bawdy Ealing comedy." -- Declan Burke, The Irish Times

"Like the perfect heist, Donna Moore's screwball caper is slick, audacious and hugely rewarding." -- Chris Ewan, author of The Good Thief's Guide to Paris

"Hilarious, irreverent and wryly observed. A classic screwball heist story ripped apart and reassembled from a uniquely female perspective, like Donald Westlake in high heels." -- Christa Faust, author of Money Shot and Choke Hold

"Old Dogs is fresh and funny, a genuine load of laughs with a believably quirky, endearing, and hilarious cast of characters. It's the sort of a wild frolic you've come to expect from Donna Moore, and she hasn't let us down." -- Tom Piccirilli, award-winning author of Shadow Season

"Oh, god . . . so funny! Donna is Scotland's answer to Donald Westlake with a Glaswegian accent and FABULOUS shoes! Wickedly funny." -- Kat Richardson, best-selling author of Labyrinth

"Donna Moore proves that …Go to Helena Handbasket was no fluke. Old Dogs is even better. You can't go wrong with two former hookers in their 70s, a great caper, and a cast of serious loonies. It's the funniest crime novel I've read in a long time, and if Judi Dench and Vanessa Redgrave don't star in the movie version, I'm going to be very disappointed." -- Bill Crider, award-winning author of Murder in the Air

"[Donna Moore] has surpassed herself in her wit, insight and sheer turn of phrase in Old Dogs. Take Joan Rivers, add some less acerbic Susan Silverman and sprinkle with the sheer story-telling glee of early Carl Hiaasen and you'll have some idea of what to expect. Roll out the awards shelf, Donna is going to grab them all. Her wondrous artistry makes it seem so easy, and books this readable and compelling are anything but easy to achieve. This is true art. Beware, you may want to grab passers-by and insist they hear a passage read aloud, it's that good." -- Ken Bruen, award-winning author of London Boulevard
Advertisement