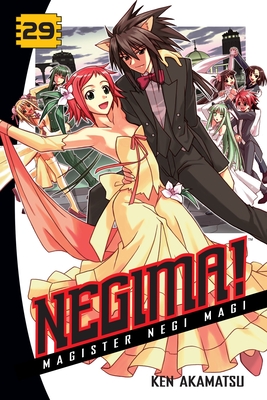 Negima! Magister Negi Magi, Volume 29 (Paperback)
Kodansha Comics, 9781935429562, 192pp.
Publication Date: May 17, 2011
Description
Realizing it might be a trap, Negi and friends accept an invitation to the ball where Goedel claims he will tell Negi everything he wants to know. Haruna insists that Negi make as many pactios as possible before walking into danger, but the girls won't surrender their lips so easily.
About the Author
KEN AKAMATSU is the best-selling creator of Love Hina, one of the most popular manga series in America. It was selected by Kodansha for their prestigious "Manga of the Year" award. Love Hina has been converted into an anime series that is popular in both the United States and Japan. Akamatsu lives in Tokyo but recently traveled to the United States to attend a fan convention and meet U.S. fans of his work. The author lives in Tokyo, Japan.
Praise For Negima! Magister Negi Magi, Volume 29…
 • "Highly recommended, not just because it's another fine effort from Ken Akamatsu, but also because of the inspired translation and excellent handling of sound effects." --NewType magazine
 • "Filled with the slapstick fan service and romantic comedy elements which have made Love Hina such a hit. --ICV2.com (comics industry website/newsletter)
Advertisement