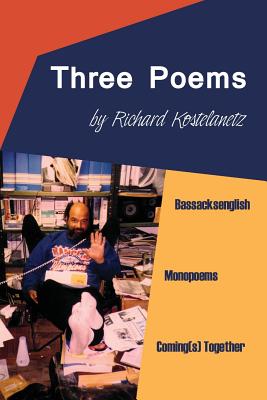 Three Poems (Paperback)
Bassacksenglish, Monopoems, Coming(s) Together
NYQ Books, 9781935520498, 84pp.
Publication Date: December 19, 2011
Description
Having already established his poetry among the most inventive ever, the distinguished man of avant-garde letters, Richard Kostelanetz, realizes further radically formal steps in THREE POEMS. Each is a sequence of one-word texts continuously interleaved with the others in an unprecedented way, in sum offering an unprecedented reading experience. As John Robert Colombo writes, -I sense the strength of the narrative (and there are many narratives throughout) to be elastic or plastic: how the reader molds it in his/her/my/your mind.- The book concludes with Kostelanetz's visual essay -Poetry I Shall Not Make.- For work of this kind he has earned individual entries in the READERS GUIDE TO TWENTIETH CENTURY WRITERS, CONTEMPORARY POETS, and BRITANNICA.COM, among other highly selective directories.
Advertisement