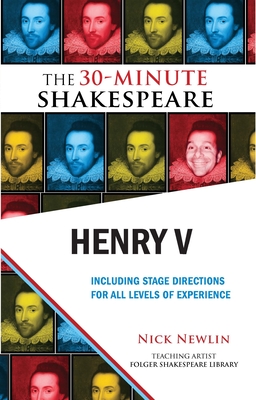 Henry V
The 30-Minute Shakespeare
Paperback

* Individual store prices may vary.
Description
"A truly fun, emotional, and sometimes magical first experience, usually guided by a sagacious, knowledgeable, and intuitive educator." --Library Journal
From a teacher's perspective, this book was a great way to introduce students to a Shakespeare play they otherwise might never have encountered in high school . . . much more fun working with the adaptation than it might have been if I had tackled the full script. I strongly recommend this book (and the rest of the series) to educators who want to introduce a variety of Shakespeare plays to their students in a limited amount of time. --James Brendlinger, Chairman, Department of Arts and Communications, Lake Lowell High School, Winter Park, FL
This edition of Henry V presents eight scenes, using all actors as Chorus. Included in this riveting cutting are Henry's inspiring "band of brothers" oration to his men, a merry interlude with Bardolph and friends, and an irresistible scene in which Alice teaches English to Katherine and her ladies in waiting. There is also an essay by editor Nick Newlin on how to produce a Shakespeare Play with novice actors, and notes about the original production of this abridgement at the Folger Shakespeare Library's annual Student Shakespeare Festival.
Nicolo Whimsey Press aims to make Shakespeare's plays accessible, performable, and fun for young people, regardless of their experience level.
Through his twenty years of working as a director-in-residence in DC public high schools under the auspices of the Folger Shakespeare Library, Nick Newlin has created thirty-minute edits of Shakespeare's plays, complete with stage directions and character suggestions that can be performed by groups of fifteen to thirty young people.
Performance rights are included with the purchase of play scripts. Unlike most other scripts on the market today, The 30-Minute Shakespeare has no separate charge for public performances, making each volume an exceptional value.
What makes these books extraordinary is author Nick Newlin's breadth of expertise and experience as a performer, teaching artist and scholar. Newlin holds a BA from Harvard University and an MA in Theatre from the University of Maryland. He has performed a stage act for young people as Nicolo Whimsey since 1986 from the high Himalayas to the White House, and since 2006 he has conducted a teaching artist residency with DC Public High School Students with Folger Shakespeare Library.
Nicolo Whimsey Press, 9781935550389, 70pp.
Publication Date: September 17, 2019
About the Author
Nick Newlin: Nick Newlin has been a performer, writer and arts educator for international audiences for 30 years. Since 1996, he has conducted an annual Play Directing residency affiliated with the Folger Shakespeare Library in Washington, DC. Nick has a BA from Harvard University with Honors 1982 and an MA in Theater from The University of Maryland with an emphasis on Play Directing.