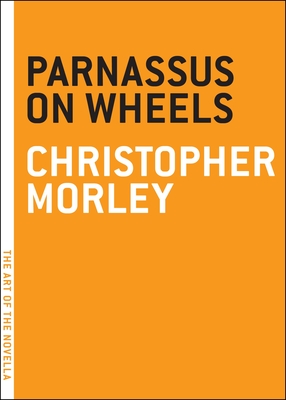 Parnassus on Wheels (The Art of the Novella) (Paperback)
Melville House, 9781935554110, 144pp.
Publication Date: August 31, 2010
Other Editions of This Title:
Digital Audiobook (5/16/2011)
Paperback (11/8/2016)
Paperback (9/11/2016)
Paperback (3/27/2017)
Paperback (9/9/2017)
Paperback (3/25/2017)
Paperback (10/5/2008)
Paperback (8/19/2017)
Paperback (3/30/2014)
Paperback (9/8/2009)
Paperback (10/11/2016)
Paperback (7/26/2017)
Paperback (6/29/2016)
Paperback (7/1/2017)
Paperback (12/18/2016)
Paperback (8/9/2015)
Paperback (10/13/2014)
Hardcover (10/17/2018)
Hardcover (10/15/2008)
* Individual store prices may vary.
Description
I imagined him in his beloved Brooklyn, strolling in Prospect Park and preaching to chance comers about his gospel of good books.

"When you sell a man a book," says Roger Mifflin, the sprite-like book peddler at the center of this classic novella, "you don't sell him just twelve ounces of paper and ink and glue—you sell him a whole new life." In this beguiling but little-known prequel to Christopher Morley's beloved Haunted Bookshop, the "whole new life" that the traveling bookman delivers to Helen McGill, the narrator of Parnassus on Wheels, provides the romantic comedy that drives this charming love letter to a life in books.

The Art of The Novella Series

Too short to be a novel, too long to be a short story, the novella is generally unrecognized by academics and publishers. Nonetheless, it is a form beloved and practiced by literature's greatest writers. In the Art Of The Novella series, Melville House celebrates this renegade art form and its practitioners with titles that are, in many instances, presented in book form for the first time.
About the Author
Christopher Morley (1890-1957) was a New York newspaper columnist who wrote over one hundred books, including the bestselling novels The Haunted Bookshop and Kitty Foyle, which sold over a million copies and was made into a hit Hollywood movie.
Praise For Parnassus on Wheels (The Art of the Novella)…
"Don't let its small size deceive you..the story of a traveling bookseller and the unexpected love he finds when selling his bookmobile packs a big heart."
—Martha Stewart Weddings, 10 Classic Love Stories to Add to Your Reading List

Praise for The Art of the Novella
"I wanted them all, even those I'd already read."
—Ron Rosenbaum, The New York Observer

"Small wonders."
—Time Out London

"[F]irst-rate…astutely selected and attractively packaged…indisputably great works."
—Adam Begley, The New York Observer

"I've always been haunted by Bartleby, the proto-slacker. But it's the handsomely minimalist cover of the Melville House edition that gets me here, one of many in the small publisher's fine 'Art of the Novella' series."
—The New Yorker

"The Art of the Novella series is sort of an anti-Kindle. What these singular, distinctive titles celebrate is book-ness. They're slim enough to be portable but showy enough to be conspicuously consumed—tiny little objects that demand to be loved for the commodities they are."
—KQED (NPR San Francisco)

"Some like it short, and if you're one of them, Melville House, an independent publisher based in Brooklyn, has a line of books for you... elegant-looking paperback editions ...a good read in a small package."
—The Wall Street Journal