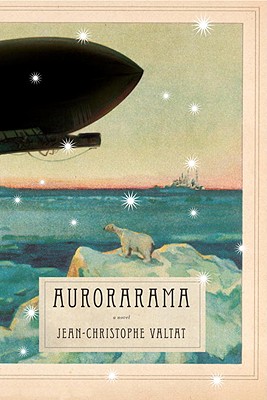 Aurorarama
Hardcover

* Individual store prices may vary.
Other Editions of This Title:
Paperback (5/1/2012)
Description
A startling, seductive literary novel that entwines suspense, science fiction, adventure, romance and history into an intoxicating new genre.

1908: New Venice--"the pearl of the Arctic"--a place of ice palaces and pneumatic tubes, of beautifully ornate carriage-sleds and elegant victorian garb, of long nights and vistas of ice.

But as the city prepares for spring, it feels more like qaartsiluni, "the time when something is about to explode in the dark." Local "poletics" are wracked by tensions with the Eskimos circling the city, with suffragette riots led by an underground music star, with drug round-ups by the secret police force known as the Gentlemen of the Night. An ominous black airship hovers over the city, and the Gentlemen are hunting for the author of a radical pamphlet calling for revolt.

Their lead suspect is Brentford Orsini, one of the city's most prominent figures. But as the Gentlemen of the Night tighten the net around him, Orsini receives a mysterious message from a long-lost love that compels him to act.

What transpires is a literary adventure novel unlike anything you've ever read before. Brilliant in its conception, masterful in its prose, thrilling in its plot twists, and laced with humor, suspense, and intelligence, it marks the beginning of a great new series of books set in New Venice-and the launch of an astonishing new writer.
Praise For Aurorarama…
" ... the novel glides on silver skates from the surreal to the absurd to the languorously decadent ... Irresistible." —Laura Miller, Salon

"Combining Arctic adventure with Victorian fantasy, this page-turner is as sparkling and colorful as the northern lights." —The San Francisco Chronicle

"Aurorarama is a magnificent achievement, balancing serious intent with arch humour. It's also beautifully stylish, replete with inventive steampunk iconography and fantastical characters in a stunning polar setting." —Eric Brown, The Guardian

"Aurorarama mesmerizes..."     —Erik Morse, Bookforum

"Aurorarama is perhaps what Jules Verne would write if woken from the dead and offered a dose of mushrooms." —The National

"[Aurorarama] entrances and delights. You could spend years picking apart the sly references and the particular myths, poems, novels and songs that inspired Valtat, or you can simply enjoy it for the experience. Valtat is making his American debut in a big way...with his remarkable enthusiasm and bravery, it's completely possible he'll conquer the world." —Jessa Crispin, NPR's "Books We Like"

"Marvelous, perfect, and perfectly marvelous!... [Aurorarama] promises to attract discerning and sophisticated readers galore, those fans of the fantastical who are tired of second-hand visions and stale conceits....Valtat's novel is Little Nemo in Slumberland as retold by a trio of Jeff Noon, Steve Aylett and William Burroughs. I can hardly wait for its sequels." —Paul Di Filippo, The Barnes and Noble Review

"The prose is gorgeous, undeniably so..". —The San Francisco Book Review

"A terrific storyteller, Valtat mixes humor and poetry, romance and politics into a surprisingly thoughtful page-turner about social revolution." —Matthew Jakubowski, Paste Magazine

"Mr. Valtat may have written the most noteworthy contribution to steampunk in almost two decades.... Aurorarama rejuvenates an entire subgenre, adding creativity and accuracy (historical and, more importantly, tonal) to a field that risks being defined solely by corsets and airships. Beyond its importance in legitimizing steampunk, Aurorarama is a sparkling read - breathing, human characters wandering amok in one of the most captivating cities in fiction." —Pornokitsch

"Aurorarama is at turns smart, funny ... thought-provoking, dark and bizarre" —Geek Speak Magazine

Praise for Jean-Christophe Valtat

"[Valtat] has a magical sense of shape, and a gift for lyrical prose that are rare in modern writing." —La Croix

"Jean-Christophe Valtat is a writer of beautiful energy." —Le Monde

"A totally satisfying literary experience, and I don't want you to miss it." —Kate G., bookseller at The Strand
Melville House, 9781935554134, 416pp.
Publication Date: August 31, 2010
About the Author
Jean-Christophe Valtat was educated at the École Normale Supérieure and the Sorbonne. He is the author of three acclaimed books of literary fiction: Album, a collection of short stories, and the novels Exes and O3, the last of which was recently translated into English and published in the United States by Farrar, Straus, & Giroux. Aurorarama is his first book written in English. Valtat also wrote and co-directed the movie Augustine. He lives in Paris.
or
Not Currently Available for Direct Purchase