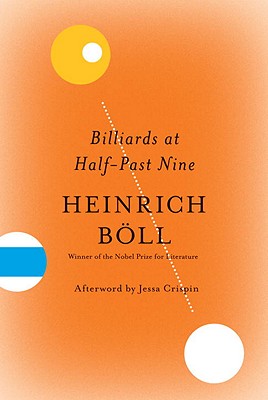 Billiards at Half-Past Nine (Paperback)
Melville House Publishing, 9781935554189, 295pp.
Publication Date: December 28, 2010
Description
Böll's well-known opposition to fascism and war informs this moving story of a single day in the life of traumatized soldier Robert Faehmel, scion of a family of successful Cologne architects, as he struggles to return to ordinary life after the Second World War. An encounter with a war-time  nemesis, now a power in the reconstruction of Germany, forces him to confront private memories and the wounds of Germany's defeat in the two World Wars.
About the Author
In 1972, Heinrich Boll became the first German to win the Nobel Prize for literature since Thomas Mann in 1929. Born in Cologne, in 1917, Boll was reared in a liberal Catholic, pacifist family. Drafted into the Wehrmacht, he served on the Russian and French fronts and was wounded four times before he found himself in an American prison camp. After the war he enrolled at the University of Cologne, but dropped out to write about his shattering experiences as a soldier. His first novel, "The Train Was on Time," was published in 1949, and he went on to become one of the most prolific and important of post-war German writers. His best-known novels include "Billiards at Half-Past Nine" (1959), "The Clown "(1963), "Group Portrait with Lady" (1971), and "The Safety Net "(1979). In 1981 he published a memoir, "What s to Become of the Boy? or: Something to Do with Books." Boll served for several years as the president of International P.E.N. and was a leading defender of the intellectual freedom of writers throughout the world. He died in June 1985.

Jessa Crispin is the editor and founder of Bookslut.com. She is also a reviewer for NPR s Books We Like, and her writing has appeared in "The Washington Post," "The Chicago Sun-Times," "The Guardian," and "The Toronto Globe and Mail," among other publications. She lives in Berlin."
Praise For Billiards at Half-Past Nine…
THE ESSENTIAL HEINRICH BÖLL

"Daringly and hypnotically written... an extended soliloquy on memory, recrimination and tenuous hope."
—Sam Sacks, The Wall Street Journal

"Böll is an expert marksman: the arrows are sharp, the feathers smooth, the targets numerous."
—The New York Times

"His work reaches the highest level of creative originality and stylistic perfection."
—The Daily Telegraph

"The renewal of German literature, to which Heinrich Böll's achievements witness, and of which they are a significant part, is not an experiment with form. Instead it is a rebirth out of annihilation, a resurrection, a culture which, ravaged by icy nights and condemned to extinction, sends up new shoots, blossoms, and matures to the joy and benefit of us all."
—The Nobel Prize Committee

"The claim that Böll is the true successor to Thomas Mann can be defended by his novel Billiards at Half-Past Nine."
—The Scotsman

"A work in the best tradition of the German novel, taking up the thread broken by the Third Reich, the thread spun by Remarque's All Quiet on the Western Front and Fallada's Little Man, What Now?"
—Christian Science Monitor

"A man of deep feeling and intelligence, speaking in a strongly contemporary voice, [Böll] recorded in his early stories the way it felt to come home to a destroyed country. The tone was neither angry, ironic nor surreal. On the contrary, these stories gave us the slow-moving thoughtfulness of a narrator in pain, walking about on a lunar landscape, knowing he must make sense of things more quickly than he is able to do."
—Vivian Gornick, The New York Times
Advertisement