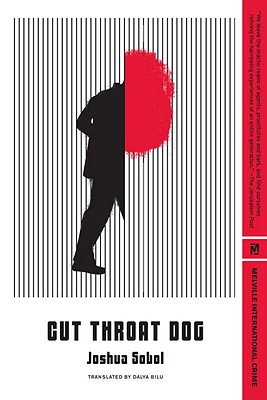 Cut Throat Dog
Paperback

* Individual store prices may vary.
Description
International intrigue, murderous politics, and psychological suspense combine in a stylish literary thriller
 
An enigmatic Israeli who calls himself Shakespeare – because he's got a way with words – finds himself jolted on a sidewalk in Manhattan: Is that who I think it is, he wonders, or am I crazy?
 
Who he thinks it is, is one of the world's premier terrorists. Someone who murdered his partner. Someone he blames for the fog of despair that's overcome him. And most shockingly, someone Shakespeare's mysterious associates in Tel Aviv tell him had been killed in the desert.
 
So is Shakespeare cracking up, or cracking the case of a lifetime?
 
In the hands of esteemed Israeli author Joshua Sobol, the wicked riddle becomes a masterful work that transcends genre: It's a sumptuously written literary novel and a taut spy thriller. It's a moving recollection of a purposeful youth and a graphic account of the hunt for terrorists.  It's the story of a mid-life crisis and the endless crisis of the Middle East. It's a work of wild and whimsical word-play and fast-paced, deadly gun-play.
 
It is, in short, the English-language debut of a mesmerizing writer at the top of his form.
Praise For Cut Throat Dog…
"Cut Throat Dog is truly a piece of captivating literature....Its pages are seductive and sumptuously written, poignantly telling the Jewish history of the 20th century."
—The Jewish Times

"All of the literary feints and riddles together act as both a send-up and earnest critique of covert culture. [Cut Throat Dog] hints at the way government secrecy bleeds into civilian life, making it even more quixotic and less secure."
—Time Out Chicago

"In these pages, we leave the macho realm of agents, prostitutes and bars, and find ourselves reliving the harrowing experiences of an entire generation."
—The Jerusalem Post
 
"A breathtaking, brilliantly written, furiously kaleidoscopic series of personal and historical, tragic, comic, bizarre and banal events telling with startling completeness the Jewish history of the 20th century …"
—Die Zeit

"…a literary riddle of admirable subtlety." —Andrea Neuhaus, literaturkritik.de
Melville International Crime, 9781935554219, 272pp.
Publication Date: November 2, 2010
About the Author
Joshua Sobol born in Tel Mond, Palestine (now Israel) in 1939, is an internationally acclaimed playwright. His Soul of a Jew was performed at the Edinburgh, Berlin and Chicago Festivals, and Ghetto won the Evening Standard and the London Critics award for Best Play of the Year after running at the Royal National Theater in London in 1989. He is the author of one other novel, Silence, which won the Sapir Prize, Israel's most prestigious literary prize. This is his first novel published in English.
or
Not Currently Available for Direct Purchase