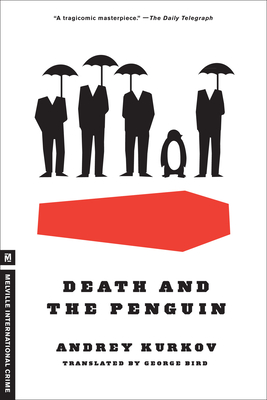 Death and the Penguin
Paperback

* Individual store prices may vary.
Description
A masterful tale set in post-Soviet Kiev that's both darkly-funny and ominous...

In the widely hailed prequel to Penguin Lost, aspiring writer Viktor Zolotaryov leads a down-and-out life in poverty-and-violence-wracked Kiev—he's out of work and his only friend is a penguin, Misha, that he rescued when the local zoo started getting rid of animals. Even more nerve-wracking: a local mobster has taken a shine to Misha and wants to keep borrowing him for events.

But Viktor thinks he's finally caught a break when he lands a well-paying job at the Kiev newspaper writing "living obituaries" of local dignitaries—articles to be filed for use when the time comes.

The only thing is, it seems the time always comes as soon as Viktor writes the article. Slowly understanding that his own life may be in jeopardy, Viktor also realizes that the only thing that might be keeping him alive is his penguin.


Praise For Death and the Penguin…
Praise for Death and The Penguin

"Death and the Penguin comes across as an almost perfect little novel ... fast-paced and witty and on the side of the angels." —John Powers, NPR's Fresh Air

"Pathos and humor shine through to make this a black comedy of rare distinction, and the penguin is an invention of genius." —The Spectator

"A striking portrait of post-Soviet isolation. . . . In this bleak moral landscape Kurkov manages to find ample refuge for his dark humor." —The New York Times

"No summary can do justice to the strange appeal of this unusual, short book, which is at once a crime novel, a comic novel and a serious political satire on contemporary Ukraine." —Anne Applebaum, The Wall Street Journal 
 
"Delicious... when Viktor finally finds Misha it is as if Woody Allen had gone to meet Kurtz." —The Spectator

"The deadpan tone works perfectly, and it will be a hard-hearted reader who is not touched by Viktor's relationship with his unusual pet." —The Times (London)

"Misha, the most memorable character of his thriller Death and the Penguin, left web-footed prints all over my imagination" —NPR

"I loved the f*ck out of it." —Paul Constant, The Stranger

"Death and the Penguin successfully balances the social awkwardness of Woody Allen, the absurd clashes of Jean-Luc Godard and the escalating paranoia of Franz Kafka."
—Vikas Turakias, The Cleveland Plain Dealer
Melville International Crime, 9781935554554, 240pp.
Publication Date: June 7, 2011
About the Author
Andrey Kurkov, born in St. Petersburg in 1961, now lives in Kiev. Having graduated from the Kiev Foreign Languages Institute, he worked for some time as a journalist, did his military service as a prison warder at Odessa, then became a film cameraman, writer of screenplays, and author of critically acclaimed and popular novels. He is the author of Penguin Lost, a sequel to Death and the Penguin, and The Case of the General's Thumb.

George Bird has translated extensively from German and Russian. In 1986 he won the Pluto Crime Prize for his novel Death in Leningrad.
Coverage from NPR