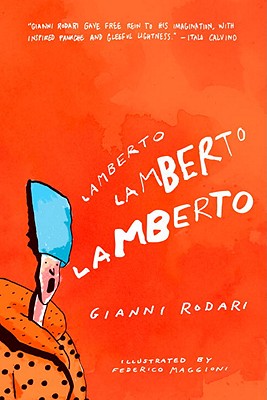 Lamberto Lamberto Lamberto (Hardcover)
Melville House Publishing, 9781935554615, 185pp.
Publication Date: December 6, 2011
* Individual store prices may vary.
Description
A fable for children and adults: a story of life, death, and terrorism—in the grand tradition of Exupéry's The Little Prince

When we first meet 93-year-old millionaire Baron Lamberto, he has been diagnosed with 24 life-threatening ailments—one for each of the 24 banks he owns. But when he takes the advice of an Egyptian mystic and hires servants to chant his name over and over again, he seems to not only get better, but younger.

Except then a terrorist group lays siege to his island villa, his team of bank managers has to be bussed in to help with the ransom negotiations, and a media spectacle breaks out . . .

A hilarious and strangely moving tale that seems ripped from the headlines—although actually written during the time the Red Brigades were terrorizing Italy—Gianni Rodari's Lamberto, Lamberto, Lamberto has become one of Italy's most beloved fables. Never before translated into English, the novel is a reminder, as Rodari writes, that "there are things that only happen in fairytales."
About the Author
Gianni Rodari (October 23, 1920-April 14, 1980) was an Italian writer and journalist, most famous for his books for children. The recipient of the Hans Christian Andersen Award in 1970, Rodari is a household name in Italy among educators and parents, not to mention children, and is considered by many literary historians to be the country's most important writer of children's literature in the twentieth century. Influenced by French surrealism and linguistics, Rodari advocated poetry and language play as a way to recover the rhythm and sound of oral tradition and nursery rhymes. He is the author of "The Grammar of Fantasy," a classic manual for teachers, as well as many books for children.

Antony Shugaar is an author and translator. Among his recent translations are "Everybody's Right" by Paolo Sorrentino, "Bandit Love" by Massimo Carlotto, and "Sandokan "by Nanni Balestrini.
Praise For Lamberto Lamberto Lamberto…
"Gianni Rodari gave free rein to his imagination, with inspired panache and gleeful lightness. At the same time, he had a precise and meticulous love for detail, for rich and exact language, and so all of his inventions are set in a very concrete world with real form and action."
—Italo Calvino

"Making a comedy out of a terrorist kidnapping is tricky stuff, but this book for both children and adults is a daring highwire act that works. In the shocking tradition of Roald Dahl, this hilarious Italian fairytale is peppered with scuba diving suits, submachine guns and custom sports cars. At times antic with goofy buffoonery, at times grisly with uncomfortable realism—Rodari has a sense of comedy that smacks of the Marx Brothers, but with a darker, post 9/11 edge more in keeping with the grimmer satires of South Park." —Shelf Awareness

 "If Roald Dahl had rewritten The Picture of Dorian Gray to include a gang of 24 bandits and a giant balloon, the result might have been Rodari's wonderfully improbable novel..." —Publishers Weekly

"Lamberto belongs to that family of comic writing that glories in the full spectrum of the absurd." —LA Review of Books

"If you are looking for a book that transports you, that contains details you will return to for years to come, and that you may, someday, give to your children, it's this one." —The Lit Pub

"Stuffed with amusing characters and off-the-wall events, Lamberto, Lamberto, Lamberto evokes a texturally rich setting that skillfully weaves together satire and fantasy. You'd be hard-pressed not to enjoy this young adult fairy tale from Italy." —Fiction Advocate

"Making a comedy out of a terrorist kidnapping is tricky stuff, but this book for both children and adults is a daring high-wire act that works." —Nick DiMartino, Shelf Awareness

"It may seem like grisly stuff for a children's book, but Rodari mixes magic with terrorists and tabloids and manages to come out with something altogether wonderful, and sure to please young and old alike." —Flavorwire's 10 New Must-Reads for December

"Give yourself up to this insightful tour guide, and you might just find yourself confronting the absurdities of your own life." —New York Journal of Books

"Rodari's story is, to say the least, unpredictable..." —The Complete Review

"Absurdities abound but never overwhelm, this is satire of the highest order." —Largehearted Boy

"Hilarity ensues in a story that retains the wonder and delight of Norton Juster's The Phantom Tollbooth or Antoine de Saint-Exupéry's The Little Prince." —Barnes and Noble (Long List pick)
or
Not Currently Available for Direct Purchase