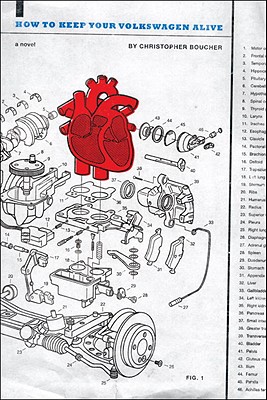 How to Keep Your Volkswagen Alive (Paperback)
A Novel
Melville House, 9781935554639, 240pp.
Publication Date: August 9, 2011
* Individual store prices may vary.
Description
It's hard being a single-dad raising a son—especially if your kid is also a 1971 Volkswagen Beetle.
 
There's nothing more troubling than having your child break down on the side of the road, leaking oil, overheating, and asking tough questions like, "What is death?" and "Why did Mom leave?"

But stay calm!

Because How To Keep Your Volkswagen Alive is not only a dizzyingly beautiful novel, it's also a handy manual with useful chapters on "Tools and Spare Parts," "Valve Adjustment," "How To Read This Novel," and, most important of all, "How Works a Heart."
 
Welcome to Christopher Boucher's zany literary universe, a place where metaphors shift beneath your feet, familiar words assume new meanings, objects talk, trees attack, and time actually is money. Modeled on the cult classic 1969 hippie handbook of the same name, How To Keep Your Volkswagen Alive is an astonishing tour-de-force that tackles some of life's biggest questions: How do you cope with losing a parent? What's the secret to raising a child? How do you keep love alive? How do you get your car to start?
About the Author
CHRISTOPHER BOUCHER is author of the widely praised novels Golden Delicious and Big Giant Floating Head. He teaches literature and writing at Boston College, and is editor of the literary journal Post Road. He lives in Northampton, MA.
Praise For How to Keep Your Volkswagen Alive: A Novel…
"Boucher creates a fun, bluesy work that deals with the difficulty of parenting, coping with loss and how people navigate romantic relationships; in a sense, HTKYVA is an instruction manual for the human heart....Unforgettable."  —Rhea Ramey, Time Out New York (5/5 stars)

"Innovative, addictive, bonkers and beautiful" —Jonathan Messinger, Time Out Chicago

"Writing to save your life—and your 1971 Volkswagen—is at the heart of this wildly imaginative debut... Readers are in for a fresh, memorable ride with this inventive 'collage of loss'" —Publishers Weekly (starred review) 

"Strange and dazzling...Through all the insanity and dizzying leaps of logic that make up Boucher's world are a series of absolutely human and recognizable truths." —Emily St. John Mandel, The Millions

"Accomplished, wrenching." —The Kenyon Review

"Boucher's first novel is one of the most original books you will read this year."  —Roxane Gay, HTMLGiant

"Boucher is a deft mechanic...possessed of a special skill to diagnose malfunctioning language by ear, to hear where words are misaligned...." —Eamon, O'Connor, Full-Stop 

"This is a head-tilting exercise in literary shape-shifting." —Identity Theory

"Boucher's clever turns of phrase and his playfulness with words are also hallmarks of this oddball tale. And despite the wonkiness, the enchanting novelist keeps the plot well-oiled and in gear throughout." —Austen Diamond, Salt Lake City Weekly

"There is a fair amount of vulgar language used and taking the Lord's name in vain. There are references to premarital sex, which the author calls 'faith or faithing.'" —The Deseret News (Salt Lake City)

"As moving as it is fun, How to Keep Your Volkswagen Alive is definitely the next book you should read."  —Adam Levin, author of The Instructions

"Christopher Boucher joins a now-forgotten handbook with Steven Wright's old joke about mistakenly sticking a car key in a house door and builds a new, exuberant novel-world. Goofiness and grief are in perfect harmony in this impressive, moving debut." —Sam Lipsyte, author of The Ask

"Boucher is our Brautigan. From an alchemy of melancholy and innocence, he coins beautiful malapropisms that overtake the dogged stretches of our language. A whimsy so charismatic you find yourself thinking and, yes, talking in Boucherisms."  —Salvador Plascencia, author of The People of Paper
or
Not Currently Available for Direct Purchase