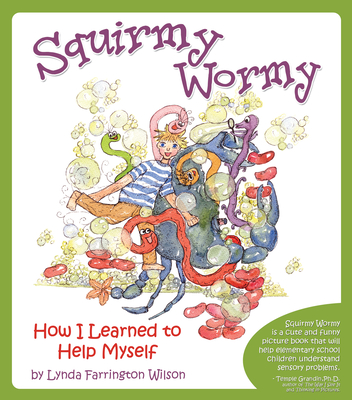 Squirmy Wormy (Paperback)
How I Learned to Help Myself
Sensory Focus LLC, 9781935567189, 27pp.
Publication Date: December 1, 2009
* Individual store prices may vary.
Description
Many kids have some form of SPD (Sensory Processing Disorder), but who can help them overcome their daily struggles? Wait . . . they can help themselves
Lynda Farrington Wilson, along with Tyler and some delightful illustrations, help kids help themselves through daily life like no one has before with some great everyday tips and techniques.
Squirmy Wormy is a wonderful little children's book about a boy named Tyler, who has autism and SPD. Together with Tyler, the reader learns about SPD and what easy therapies he can do by himself to feel better. For instance: "I feel like running really fast, run run run Maybe I just need a s-q-u-e-e-z-e between the couch cushions like a hot dog. Whew I feel better."
Endorsed by Dr. Temple Grandin, this book is sure to help many children (who perhaps previously did not even know they had SPD) lead calmer, richer lives.
About the Author
Right brain, left brain. Creative, strategic. Yin, yang.

Lynda Farrington Wilson has 25 years of experience that spans copywriting and design for advertising, promotional media and publicity, and creative account management for national and international clientele, a tenured Marketing Vice President.

Steadfast in a new direction, she is relishing in a career as a writer, children's book author, illustrator and potter... accepting projects that challenge and inspire. She is certified in the Affect-Based Language Curriculum, and has created "ArtFriends," a unique social skills class model providing sensory and social experiences through the arts.

Lynda and her husband have three sons, the youngest a funny, brilliant, sensory-seeker with high functioning autism. He along with his equally brilliant older brothers has provided the impetus to write and illustrate her new book, "Squirmy-Wormy, "and given her the inspiration and joy to advocate on behalf of autism awareness including its challenges, and its blessings.
Praise For Squirmy Wormy: How I Learned to Help Myself…
Squirmy Wormy is a cute and funny picture book that will help elementary school children understand sensory problems.
Temple Grandin,Ph.D.
author of The Way I See It and Thinking in Pictures.
This colorful book captures how overwhelming sensation can be to children with SPD through gorgeous imaginative pictures. The reader will learn about SPD and learn strategies to help calm the nervous system of a child who experiences a disorganized sensory world.
Paula Aquilla, B.Sc., O.T.
author of Building Bridges through Sensory Integration