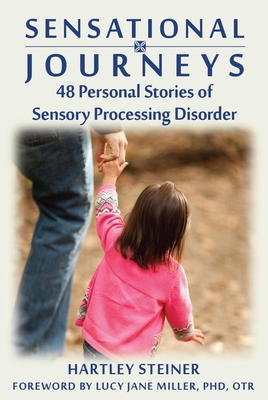 Sensational Journeys (Paperback)
48 Personal Stories of Sensory Processing Disorder
Future Horizons, 9781935567318, 270pp.
Publication Date: September 1, 2011
* Individual store prices may vary.
Description
Walk in the shoes of these 48 sensational families and discover what you never knew about Sensory Processing Disorder.
Written by the mom of a young man with SPD, this much needed book tells the stories of 48 families as they go through the trials and triumphs of sensory issues. It will cover all different aspects and what families should expect as they enter, and what hope lies ahead.
About the Author
Hartley Steiner lives in the Seattle area with her three sons, two of which are on the spectrum. Hartley is the award winning author of the SPD Children s book "This is Gabriel Making Sense of School," a contributing writer for the SPD Foundation's blog, "S.I. Focus Magazine"and "Autism Spectrum Quarterly." Hartley chronicles the never ending chaos that is her life on the blog "Hartley s Life With 3 Boys." When she isn t writing, or dealing with a meltdown, she enjoys spending time in the company of other adults preferably with good food and even better wine. Foreword writer, Dr. Lucy Jane Miller's name is synonymous with sensory research, education, and treatment. She is the founder of the first comprehensive SPD research program and author of the groundbreaking books "Sensational Kids" and "No Longer ASECRET." Thanks specifically to Dr. Miller's mobilization of the research community, SPD now appears in two diagnostic manuals and her application has led to consideration of SPD for inclusion in the 2013 revision of the "Diagnostic and Statistical Manual (DSM-V)." Dr. Miller has also developed seven nationally standardized tests for use worldwide to assess and diagnose SPD and other developmental disorders and delays. She has been featured on NBC's Today Show and ABC's 20/20, in "The New York Times" and numerous other popular and professional publications. She is the author of more than sixty articles and/or chapters in scientific and professional journals, magazines, and textbooks and is a frequent presenter or speaker at conferences and workshops worldwide. In 2004, Dr. Miller received the Award of Merit from the American Occupational Therapy Association, the profession's highest honor, reserved for those therapists who have made an outstanding global contribution to the field. In 2005, she was awarded the Martin Luther King Jr. Humanitarian award. ."