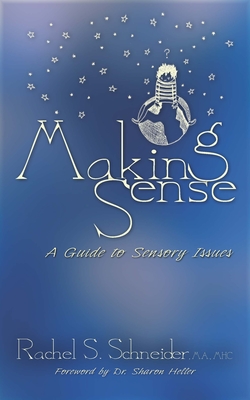 Making Sense (Paperback)
A Guide to Sensory Issues
Sensory Focus LLC, 9781935567561, 164pp.
Publication Date: February 15, 2016
* Individual store prices may vary.
Description
Our senses Thanks to them, our brains are constantly flooded with information about the world around us. What may surprise you is that we're not all wired the same way, and some of us are unable to understand exactly what we're sensing. People with sensory processing disorder (SPD), a newly identified neurological condition, as well as those with an autism spectrum disorder (ASD), are frequently misunderstood by others when they over- or under-react to sounds, sights, smells, tastes, touch, movement, balance, and feelings within their bodies.
In this guide, mental health counselor, SPD community advocate, and sensory adult Rachel S. Schneider MA MHC helps us to make sense of sensory issues. Whether you're someone with sensory issues, a loved one supporting a sensory person, a professional, or someone that is curious about unusual and complex sensory experiences, this guide will answer your questions about life with sensory processing differences.
About the Author
Rachel S. Schneider, M.A., MHC is passionate about SPD and how it affects adults. She has a master s degree in mental health counseling from the Ferkauf Graduate School of Psychology at Yeshiva University in New York City, and received her bachelor s degree in psychology from Brandeis University in Waltham, Massachusetts. Rachel s graduate work in mental health came about from a life-long struggle to comprehend her own quirky needs and behaviors. She always found herself particularly sensitive to light, sound, and movement, and she frequently felt disconnected from her body and anxious about the world around her. After years of misdiagnosis, she was found to have SPD in 2010 at the age of 27. Since 2010, Rachel has become an advocate and leader in the adult SPD community. Her blog, Coming to My Senses (www.comingtosenses.blogspot.com), serves as an intimate portrait of life as an adult with sensory issues. Her writing has been featured on the popular health and wellness website Mind Body Green (January 2015, What Everyone Should Know About Sensory Processing Disorder), the global self-acceptance website The Body is Not An Apology (December 2014, 10 Tips to Help Neurotypicals Understand Sensory Processing Disorder), and the society and culture website Everyday Feminism (May 2015, The Neurotypicals Guide to Adults with Sensory Processing Disorder). She has also been featured in Sensory Focus Magazine (spring 2014, An Ode to My Handler; winter 2014, A Letter to Myself, Many Years in the Making; spring 2015, Reflections on the Sensory Self), and her writing will appear in the next book by Carol Kranowitz, author of The Out-of-Sync Child series. Rachel blogs for Coming to My Senses and tweets at @coming2mysenses, guest blogs for the Sensory Processing Disorder Foundation, and leads an online support group for adults with SPD as well as related professionals and family members. She presented on SPD, psychopathology, and psychotherapeutic techniques at the New York Mental Health Counselors Association s convention in April 2014 and was interviewed about adulthood SPD on the SPD Parent Zone Podcast in September 2014. She recently teamed up with the Sensory Processing Disorder Foundation on the question and answer video project, The Inside View on Sensory Processing Disorder, to help shed light on the daily experience of people with SPD. Rachel lives in New York City with her beloved husband and handler, Josh Erich."