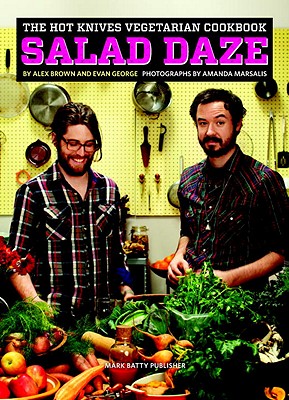 The Hot Knives Vegetarian Cookbook: Salad Daze (Hardcover)
Salad Daze
Mark Batty Publisher, 9781935613336, 128pp.
Publication Date: September 20, 2011
* Individual store prices may vary.
or
Not Currently Available for Direct Purchase
Description
Bountiful with Dionysian flair, Hot Knives Alex Brown and Evan George dish up condiments, sauces, and meals with swagger and the knife skills to match. Paired with beer selections and soundtracks, these recipes rely on hearty tubers, root vegetables, and bushels of other ingredients readily available during the winter months. Imagine a rice bowl that echoes Primal Scream's decadent psychedelia; mushrooms with the musty umami of early Rolling Stones; squash ice cream as sweet and tangy as Os Mutantes. The Hot Knives Vegetarian Cookbook: Salad Daze celebrates virtuous veggies in the name of health, sustainability, and, most importantly, over-the-top flavors and good times. 
About the Author
Evan George is an investigative journalist whose coverage of the health insurance industry, homelessness, and the federal court system has won national awards--none of which have stemmed from his extensive writing about beer, coffee, and cooking for publications including "Los Angeles Magazine," " Conde Nast Traveler," and the "Los Angeles Times." He has grilled steaks at a Philadelphia bistro, flipped burgers in Los Angeles coffee shops, and most recently spent three years as a sous chef at the renowned vegetarian hot spot Elf Cafe. He holds a history degree from Occidental College.

Alex Brown currently holds court as the general manager for Gourmet Imports, where he answers the questions, and tempers the fury, of the best chefs, cheese mongers and restaurateurs in Los Angeles. His expertise is frequently quoted on cheese by food publications including "Imbibe Magazine," "LA Weekly," and the "Los Angeles Times." A longstanding line cook vet, Alex took his first cooking job at age 14 as dishwasher/prep cook at the now extinct Indigo Crow Bistro in Albuquerque, NM.
Advertisement