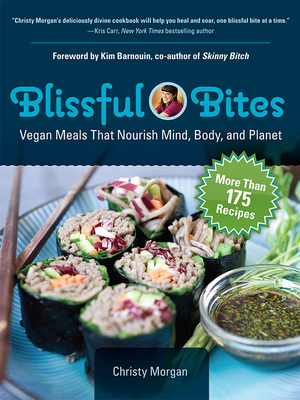 Blissful Bites (Paperback)
Vegan Meals That Nourish Mind, Body, and Planet
Benbella Books, 9781935618515, 269pp.
Publication Date: September 6, 2011
Other Editions of This Title:
Paperback (9/30/2014)
* Individual store prices may vary.
Description
Cooking in a way that's good for you and for the environment--not to mention delicious--doesn't have to be a pain; in fact, it can be sheer bliss. In Blissful Bites: Vegan Meals That Nourish Mind, Body, and Planet, Christy Morgan shows readers how to make healthy, delicious, animal-product free meals without a lot of effort. It's been long-accepted that giving up animal products also means giving up easy and enjoyable cooking, but that's just not true. Blissful Bites is a refreshing introduction to the idea that switching to a plant-based diet that uses locally grown and organic products can be easy and rewarding--for both body and mind. Blissful Bites includes more than 150 recipes that make eating every meal healthier and exciting. Morgan, known to her online audience as "The Blissful Chef," also delivers recipes that are easy for the typical home cook to follow, making a plant-based diet seem simpler and more delicious to implement than ever before. Blissful Bites is filled with unique recipes and plenty of tips on how to live a healthier, more environmentally friendly life, without sacrificing an ounce of taste.

About the Author
Christy Morgan, also known as The Blissful Chef, is a successful vegan macrobiotic chef whose business is changing people's lives through healthy cooking classes, lectures, in-home cooking instruction, healthy living consultations, and corporate team building. With her first cookbook Blissful Bites and various online and offline articles, she is well-published in the world of natural foods. Training at The Natural Epicurean Academy of Culinary Arts in Austin, Texas strengthened Christy's knowledge of nutrition and diet, and deepened her passion for food and the world around her. After graduating, she moved back to Los Angeles to follow her new dream of helping others to find the balance and health benefits that she was now experiencing. After four years of cooking and teaching in Los Angeles, Christy took to the online world, where her videos and blogs allow her to share her knowledge, passion, and delicious recipes with countless fans around the globe. Christy's on a mission to show that clean food can be delicious and easy to make--and will bring more energy and bliss into your life. Her fun and informative classes teach amateurs and seasoned veterans alike how to create simple yet delicious, sustainable, "green" meals using local organic produce and seasonal cooking techniques.
Praise For Blissful Bites: Vegan Meals That Nourish Mind, Body, and Planet…
"Blissful Bites will take you on a spiritual culinary journey. It is filled with mouth watering recipes that are healthy and easy to prepare. This cookbook should be a staple in everyone's kitchen."

--Kim Barnouin, co-author of the #1 New York Times bestseller Skinny Bitch

"Blissful Bites will inspire you to make delicious, healthy meals you'll enjoy feeding your family. Christy Morgan makes plant-based eating easy and addictive!"

--Rory Freedman, co-author of the #1 New York Times bestseller Skinny Bitch

"Blissful Bites is everything you've wanted on your path to optimal health, all in one beautiful book! The recipes are a paradise for your taste buds and a treat for your body. Christy Morgan has devised each one to bring you to the best of health in the most delicious possible way. If you want to slim down and boost your energy, or if you have any health concernexcess weight, high cholesterol, or diabetes, for examplethis book will give you the tools you need.

Christy Morgan's wonderful book makes the journey to health wonderfully easy and delicious!"

--Neal Barnard, MD, President of the Physicians Committee for Responsible Medicine

"Finallya cookbook that speaks directly to the soul! Christy Morgan's Blissful Bites is a perfect combination of healthy and satisfying recipe ideas, both light and filling, with just the right mix of food philosophy and spiritual inspiration blended in.

Emphasizing local, organic, seasonal, plant-based cuisine, there is a solid and friendly feel to this book that inspires trust and confidence. Highly recommended!"

--Will Tuttle, PhD, author of the best-selling book, The World Peace Diet, recipient of the Courage of Conscience Award, the co-founder of Circle of Compassion, and an acclaimed pianist and composer.

"Using only healthy, whole food ingredients, Blissful Bites if packed full of simple vegan recipes to help you add a delicious twist to any meal. This book is a must have for every kitchen."

--Ani Phyo, author of Ani's Raw Food Asia

"I am constantly amazed by Christy's ability to whip up stellar dishes seemingly out of thin air; she is prolific, talented, and an inspiration. Blissful Bites is a must-have in any healthy kitchen."

--Jessica Porter, author of The Hip Chick's Guide to Macrobiotics
or
Not Currently Available for Direct Purchase