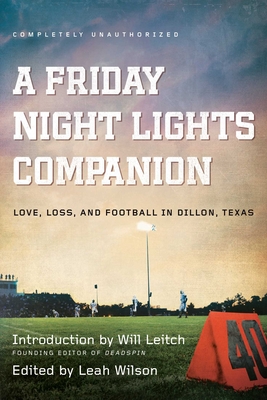 A Friday Night Lights Companion
Love, Loss, and Football in Dillon, Texas
Paperback

* Individual store prices may vary.
Description
Called one of the best shows on TV by more than a dozen media publications, including Time and Entertainment Weekly, Friday Night Lights is not just one of the most critically acclaimed shows on air, it's also one of the most watchable. Despite its focus on high school football, its masterfully crafted characters and honestly portrayed relationships make its portrait of small town Texas life compelling and relatable in ways that have nothing to do with field goals or touchdowns.

Love, Loss, and Dillon Football: A Friday Night Lights Companion explores the victories and pitfalls of Dillon, Texas – both the town itself and those who live and love there. Because Friday Night Lights is so much more than just a teenage football drama: it's about the struggle to not get trapped in the circumstances one is born into. It's about love, it's about loss, and, yes, it's even about football.
Smart Pop, 9781935618560, 272pp.
Publication Date: August 2, 2011
About the Author
Will Leitch is a contributing editor at New York magazine, a film critic at Yahoo, and the founder of Deadspin. He is also the author of four books, most recently Are We Winning? He lives with his wife in Brooklyn.

Leah Wilson graduated from Duke University with a degree in Culture and Modern Fiction and is currently Editor-in-Chief, Smart Pop, at BenBella Books. She lives in Cambridge, Mass.