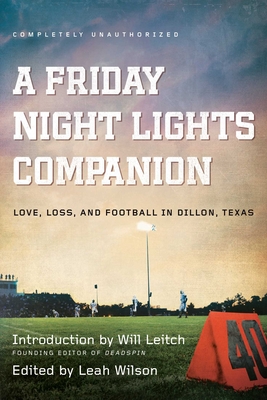 A Friday Night Lights Companion
Love, Loss, and Football in Dillon, Texas
Paperback

* Individual store prices may vary.
Description
Introduction by Will Leitch, founding editor of Deadspin Talk to any of the millions of devoted Friday Night Lights fans and they'll tell you: it's not just a show about high school football. Its rich, interesting characters and honestly portrayed relationships make the show's portrait of West Texas life compelling and relatable in ways that have nothing--and everything--to do with touchdowns. A Friday Night Lights Companion celebrates the show, its fearlessness, and what it's meant to those who love it. - Dave Campbell's Texas Football managing editor Travis Stewart provides a moving tribute to the power of high school football, by way of unlikely hero Matt Saracen
- Jonna Rubin shares the lessons she's learned from the best marriage on television: Eric and Tami Taylor's (lesson number one: drink more wine)
- Television Without Pity writer Jacob Clifton offers a meditation on one of Friday Night Lights' most fundamental values: being a part of something bigger than yourself
- The Washington Post's Jen Chaney reminds us what we love most about all our favorite Dillon residents, from Tim Riggins to Buddy Garrity to Jess Merriweather
- And more writing and reflections on Friday Night Lights A Friday Night Lights Companion takes you from series pilot to series finale, through all five masterfully crafted seasons' worth of love, loss, family, and football.

Smart Pop, 9781935618560, 259pp.
Publication Date: August 2, 2011
About the Author
Will Leitch is a contributing editor at New York magazine, a film critic at Yahoo, and the founder of Deadspin. He is also the author of four books, most recently Are We Winning? He lives with his wife in Brooklyn. Leah Wilson graduated from Duke University with a degree in Culture and Modern Fiction and is currently Editor-in-Chief, Smart Pop, at BenBella Books. She lives in Cambridge, Mass.