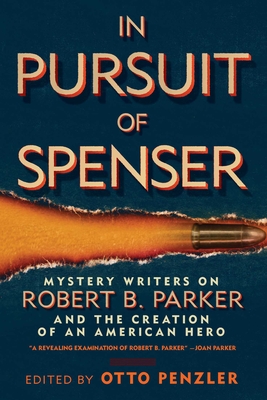 In Pursuit of Spenser
Mystery Writers on Robert B. Parker and the Creation of an American Hero
Paperback

* Individual store prices may vary.
Description
**2013 Edgar Awards nominee in Critical/Biographical**
**2013 Anthony Award nominee in Best Critical Nonfiction** Join award-winning mystery editor Otto Penzler and a first-rate lineup of mystery writers as they go in pursuit of Spenser and the man who created him, Robert B. Parker. These are the writers who knew Parker best professionally and personally, sharing memories of the man, reflections on his impact on the genre, and insights into what makes Spenser so beloved. Ace Atkins, the author chosen to take up Parker's pen and continue the Spenser series, relates the formative impact Spenser had on him as a young man; gourmet cook Lyndsay Faye describes the pleasures of Spenser's dinner table; Lawrence Block explains the irresistibility of Parker's literary voice; and more. In Pursuit of Spenser pays tribute to Spenser, and Parker, with affection, humor, and a deep appreciation for what both have left behind. **Includes a reprinted piece on Spenser from Robert B. Parker Contributors: Ace Atkins
Lawrence Block
Reed Farrel Coleman
Max Allan Collins
Matthew Clemens
Brendan DuBois
Loren D. Estleman
Lyndsay Faye
Ed Gorman
Parnell Hall
Jeremiah Healy
Dennis Lehane
Gary Phillips
S.J. Rozan

Praise For In Pursuit of Spenser: Mystery Writers on Robert B. Parker and the Creation of an American Hero…
A close and revealing examination of Robert B. Parkerthe author, the man, and the husbandbrought to life by the observations and insights of fellow authors who knew him and his work. Extraordinary!"
Joan Parker

"Robert B. Parker, the man widely credited with reviving the hardboiled PI genre, gets the respect he amply deserves in this anthology. Editor Penzler . . . provides a thoughtful introduction that sets the stage for insights into a wide range of topics, including the role of food in the Spenser books, TV adaptations, and the series' Boston setting. Every piece is worthwhile."
Publishers Weekly

"The fourteen essays here examine Spenser's place in the literary genre and anatomize the aims, techniques, and achievements of his creator . . . Included, too, are commentaries on Spenser's acceptingbut never self-abasingattitudes toward race and sexuality."
ForeWord Reviews

"A festschrift in honor of the iconic Parker, who died in 2010 . . . the collection delves into all things Spenser and Parker, with side trips for Parker's westerns and Jesse Stone series. Susan Silverman, Hawk and Boston also get their due."
Shelf-Awareness.com

"A baker's dozen of crime and mystery writersincluding Loren D. Estleman, Lyndsay Faye, Gary Phillips, Max Allan Collins and S.J. Rozanwho look back on the author's award-winning body of work, his Boston milieu, his continuing players and any influences his fiction had on their own."
Kirkus Reviews

In Pursuit of Spenser is written by fans of Robert Parker for fans of Robert Parker. It's a fun read that brings back wonderful memories of the man who created Spenser and so many other characters."
ReviewJournal.com
Smart Pop, 9781935618577, 257pp.
Publication Date: April 24, 2012
About the Author
Otto Penzler, who graduated from the University of Michigan, wrote 101 Greatest Movies of Mystery and Suspense (2000). For the New York Sun, he wrote The Crime Scene, a popular weekly mystery fiction column that ran for several years. He has worked with several outstanding authors including Elmore Leonard, Nelson DeMille, Joyce Carol Oates, Sue Grafton, Mary Higgins Clark, Robert Crais, Michael Connelly, James Lee Burke, and Thomas H. Cook. Located in Tribeca, The Mysterious Bookshop is one of the oldest and largest mystery specialist bookstores in America.