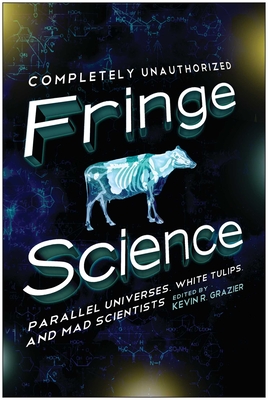 Fringe Science (Paperback)
Parallel Universes, White Tulips, and Mad Scientists
Smart Pop, 9781935618683, 252pp.
Publication Date: August 30, 2011
* Individual store prices may vary.
Description
Fringe has always been more than the sum of its parts--but its parts, too, are worth a closer look. The show combines a surfeit of mad science, some old-school sci-fi flair, and a dash of strawberry-milkshake whimsy to create the challenging, fascinating Pattern that keeps us coming back season after season and universe after universe.
Now, in Fringe Science, cutting-edge scientists, science writers, and science fiction authors and historians provide a smart, savvy, and accessible look at the world(s) of Fringe.
MIT physics professor Max Tegmark illuminates the real-life possibilities of parallel universes
Stephen Cass, founding editor of Discover's Science Not Fiction blog and a Senior Editor with Technology Review, unravels Fringe's use of time travel
Award-winning science fiction historian Amy H. Sturgis walks us through the show's literary and television ancestors, from the 1800s on
Television Without Pity staff writer Jacob Clifton looks at the role of the scientist, and scientific redemption, through the ever-shifting role of Massive Dynamic
Garth Sundem, bestselling author of Brain Candy, explores the mysterious way that memory works, from why Walter forgets to how Olivia remembers
And more, from lab cow Gene's scientific resume to why the Observers should be wearing white lab coats
About the Author
Kevin R. Grazier, PhD, has been a research scientist at NASA, served as the science advisor for shows like Eureka and Battlestar Galactica, and lectured on astronomy, cosmology, and other out-of-this-world topics at UCLA and Santa Monica College. Contributors to Fringe Science include: Brendan Allison, Amy Berner, Bruce Bethke, Mike Brotherton, Stephen Cass, Jacob Clifton, Jovana Grbic, Robert Jeschonek, Paul Levinson, Nick Mamatas, Amy H. Sturgis, Garth Sundem, and David Thomas